Why You Need a Heat Protectant Spray for Your Hair
April 15, 2022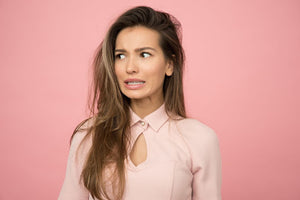 Be honest with yourself: what are you doing to protect your lovely locks? Because if you're styling it every day, you could be in some serious trouble if you don't have the right hair care routine. Applying heat to your hair with styling tools or a blow dryer can cause unwanted damage and split ends. 
Even if you use as little heat as possible to tame your mane: there are still outside factors that can cause damage to your hair. That's why you need a trusted heat protectant spray. These are formulated to help you protect your hair follicles from unwanted damage caused by styling tools and outside factors. 
Whether you live by protectant sprays or haven't used one before, we're here to walk you through everything you need to know.
Why do I need a heat protectant spray?
Let's face it: no one wants damaged hair, and the best way to reduce your risk of damage is with prevention. Whether you're someone who styles their hair every day or just once in a while, a heat protectant is necessary for any good hair care routine. Without one, your hair is more prone to split ends and unwanted damage.
Benefits of heat protectant sprays
Reduce damage 
The main goal of a heat protectant is to protect your hair from unwanted damage. And that's exactly what it does! When you add a few spritzes to your hair before styling, you're adding an extra protectant barrier that works to defend the individual follicle from unwanted heat damage.
Helps reduce frizz 
Adding a heat protectant to your hair every day can help reduce frizz. The formulas are designed to keep your hair looking sleek and shiny after styling it, so you don't need to worry about dryness.
Protect you from sun exposure
It's true: being out in the sun all day can be damaging to your hair. If you find the right heat protectant, it can also protect you from UV ray exposure. 
Helps retain moisture 
It's no secret that using styling tools every day or applying heat can dry out your hair and leave it feeling like straw. However, after adding a heat protectant, you're able to retain some of the moisture and prevent moisture from being lost during the styling process. After using your styling tools or a blow dryer: you should have the luscious locks you desire!
Smoothes the cuticle 
Does your hair ever feel soft after you straighten or curl it? That's thanks to the heat protectant you use! The ingredients found in your go-to protectant work together to smooth the cuticle, which will leave your hair softer and smoother. 
Seals split ends
If you already have hair damage, then the ends of your hair might not look their best after you style it. Don't worry, it's something we all have to deal with once in a while! However, a protectant before can help mend the split ends and provide a more finished, styled look. So you don't need to worry about your split ends if you're looking to flaunt a straight hair look!
Finding a heat protectant that works for you
If you're in the market for a heat protectant spray, we highly recommend trying our Atmos-Shield Hair Protectant Spray. This 10-in-1 thermal heat protectant provides an invisible weightless barrier to help combat a wide array of heat damage. 
To use it, you'll want to spray it lightly on towel-dried hair before heat styling or air drying. You can also use it on dry hair before a curling iron or straightening iron.
Remember: it's easier to prevent damage than it is to repair the damage. By taking the time to perfect your hair care routine with a heat protectant, you'll be able to have the gorgeous hair you've always wanted to have!