What NOT To Do When Washing Your Hair
January 20, 2023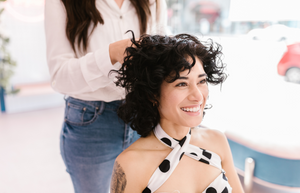 Did you know there's a right and a wrong way to wash your hair? You can't just jump in the shower, lather up, and call it a day. You'll want to take your time, use the right washing techniques, and prioritize high-end hair care products to get the most out of your hair wash days. If you don't, your hair will start to show it. 
We're here to walk you through everything you shouldn't be doing in the shower, so you can keep your hair looking and feeling its absolute best. 
Here are the six don'ts:
Don't go overboard with the hair conditioner
You should never apply conditioner directly to your scalp. Most conditioners contain ultra-hydrating ingredients and should only be used on the driest parts of your hair. 
Your scalp already produces an abundance of oil called sebum, which means too much conditioner on your scalp can lead to excessive grease. 
Once you apply the conditioner, you'll want to let it sit on your hair for a few minutes. Then, you'll want to rinse your hair with cold water. This will help seal up your cuticle and lock in moisture. 
If your hair needs a hydration boost, try our Virgin State Intensive Repair Conditioner. Our formula is designed to provide intense moisture to your hair and seal in shine for an effortless look. 
Don't go crazy with the heat
We know how great those long, hot showers feel. But did you know they can cause more harm than good? If you aren't careful: Those hot showers can lead to unwanted hair damage, skin sensitivities, and dry, brittle ends. 
The high temperatures can dehydrate your hair and strip your scalp of its natural oils. If you turn this into a habit, it can lead to sensitivities, discomfort, and imperfections. 
If you're obsessed with warm, hot showers (like most of us!), you'll want to rinse your hair with cold water before you jump out of the shower. This will help seal your hair follicle and prevent damage. 
Not only is a hot shower bad for your hair, but all of those heat styling tools are doing just as much, if not more damage to your hair. We suggest using a heat protectant like our Atmos-Shield Thermal Heat Protectant Spray. Apply this spray before using your hot styling tools to get maximum protection for your hair and fight those pesky split ends.
Don't use the wrong products  
The right hair care products make all the difference. If you're still relying on drugstore brands filled with ingredients you can't pronounce, your hair could be in a world of trouble. 
These products can lead to product build-up. Build-up can weigh down your hair, affect your hair's natural shape, and leave your hair greasy. 
If you want to improve your hair-washing routine, you'll want to look for formulas that contain an expert blend of hair-loving ingredients. This will ensure your hair looks its best even between wash days!
If you're looking for a new nutrient-rich shampoo and conditioner duo, you can't go wrong with our Argan Oil Shampoo & Conditioner Set. This dynamic duo contains an expert blend of Moroccan Argan Oil and Soy Protein to deliver moisture, help enhance shine and improve the overall manageability of your hair.
Don't brush your hair in the shower
Are you guilty of brushing your hair in the shower? We've all been there. However, the individual hair follicles are in their most fragile state when they're wet. That means while you feel like you're brushing out all the tangles, you could just be causing more damage. 
It's always best to wait until your hair is damp or nearly dry, then gently brush with a wide tooth comb. This will eliminate any friction and help you avoid unwanted breakage.
Don't forget to shampoo the scalp
When you go to shampoo, always focus on the scalp. Your roots are the oiliest part of your hair and need extra attention. If you only focus on shampooing your ends, you may come out of the shower still feeling like your hair is dirty. Once you massage the shampoo into your scalp, rinse it with warm water and continue your routine. 
Using a clarifying treatment in place of your shampoo once a week is an essential step to getting rid of the toxins in your hair. Our Hair Purifier Vinegar Cleansing Mask is perfect for those days when you feel like you need an extra cleanse. This mask is formulated to remove oil and buildup from your scalp, while restoring essential moisture back into your hair.
Don't be too rough 
When massaging the shampoo into your scalp: Don't be too harsh! You should always gently massage your scalp using your fingers and palm. Don't dig deep with your fingernails or use objects that aren't made for a scalp massage. This can lead to abrasions and infections if you aren't careful. 
If you don't have one already, consider investing in a scalp massager. These are handheld massage devices that can help stimulate circulation and improve product absorption. 
Upgrade your haircare with Orlando Pita Play
If you're serious about improving the look and feel of your hair, you just need to improve your approach to your hair wash routine. With Orlando Pita Play products, you can elevate your hair care routine with nutrient-rich ingredients that will actually make a difference on wash days.