What is Hair pH and Why is it Important?
December 09, 2022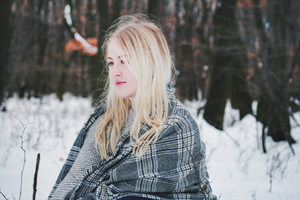 If you didn't know: Your hair is much more complex than you might think and requires special care to stay strong and healthy. One of the most integral aspects is maintaining your pH balance. When your hair's pH levels are balanced and regular, it improves the visual appeal of your hair and helps improve its overall integrity. However, when there's a disruption, it can lead to a world of trouble.
When you're on the hunt for new hair care products or shampoo and conditioners, you'll want to take some time to look at the ingredient list to ensure the ingredients don't disrupt your hair's natural pH levels. 
Not sure where to start? Don't worry, we're here to help. 
Here's everything you need to know:
What are pH numbers?
Before diving into hair pH, we need to take a step back into Biology 101. The pH scale range goes from 0 to 14. The lower side of the scale between 0 and 6 is the acidic side, 7 is neutral, and 8 through 14 is the alkaline end. These numbers are used to understand how acidic or basic something is. To put it into perspective: Black coffee is a 5 on the scale, water is a 7, and bleach is a 13. 
So, how does it apply to my hair?
Your hair's natural pH is somewhat acidic and sits anywhere between 4.5 to 5.5. However, several outside factors can disrupt your hair's normal pH levels. If your hair is between 8 to 14, this could lead to bacteria, overproduction of oil, and dandruff. Some individuals also see an increase in frizz and unwanted breakage. 
By maintaining healthy pH levels, your hair will have that smooth, shiny, and soft look you know and love. It also helps your scalp fight off unwanted germs and bacteria. 
What Causes pH Disruption?
Hair Care Products 
One of the most common problems that cause a disruption is the haircare products you use everyday. Many hair care products can disrupt your hair's natural pH level, pushing it closer to the alkaline end. 
If you're always using a shampoo with a pH level above 5.5, it can release negative electric charges that can lead to breakage. To avoid this, you'll want to stay away from sulfates, silicones, and parabens when shopping for shampoo and conditioner. Consider looking for a shampoo that is specifically labeled for pH balance.
Bleaching and Styling 
If you're constantly bleaching your hair or relying on styling products, it can disrupt your natural pH levels and cause your cuticles to lift. You want to ensure your cuticles remain flat and closed to help lock in moisture and maintain the integrity of your hair.
Shower Water 
There are also factors that you can't always control. For example, the water in your shower is alkaline. The more time you spend under the water, the more your cuticle opens, causing damage and breakage. 
Don't worry, we aren't here to tell you that you must avoid showers to keep your pH levels balanced. However, You'll want to be more mindful of the outside factors and readjust your hair care routine where you can.
The Role of Hair Type
Everyone's hair is different. This means your pH levels may also vary. For example, if you have curly hair, your pH level will be slightly higher than 4.5-5.5. This is because curly hair is fragile and dry.
If you have color-treated hair, you'll want to combat the effects of hair dyes with a pH-balanced shampoo and conditioner. This will help mend your cuticles from the damaging effects of the ammonia in hair dye.
How Orlando Pita Play Can Help
If you think your hair's pH levels may be disrupted, it's time to revisit your hair care routine with the right ingredients. Uncompromised™ is our intensive repair shampoo expertly formulated to nourish dry, over-processed strands. It gently yet effectively cleanses your hair and is pH balanced. Making this shampoo part of your everyday routine will help restore moisture and maintain that incredible shine you know and love. 
If you're serious about your hair care, you'll want to consider your hair's pH levels and look for nourishing formulas that will keep your hair and scalp balanced. With the right pH-balancing products and a good hair care routine you can prevent unwanted damage and achieve healthier-looking hair.
Ready to start prioritizing your hair? Start shopping today.