Tips for Achieving Voluminous Hair
May 06, 2022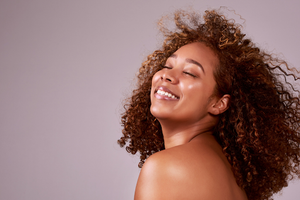 Has your hair been feeling… blah lately? It happens to the best of us. Whether you have ultra-fine hair or your hair has just been looking flatter than usual: it may mean that it's time to upgrade your hair care routine and look for new ways to add some volume. 
We're here to let you in on a few secrets to help you achieve voluminous hair. 
Let's take a look
Add some layers
Sometimes, the right haircut can do the trick. Switching up your go-to hair cut by adding some layers can be a great way to add more body to your hair, especially if you have fine hair. 
However, you never want to overlayer. Talk to your hairstylist about what you're looking for, and they should be able to guide you towards a more voluminous hairstyle for your hair type. 
Blow-dry your hair upside down
This technique is the best-kept secret for voluminous hair. Taking some time to blow dry upside down, rather than how you usually do it, can create more volume than you think. 
We recommend using a styling foam, like The Great Inflate, to add more dimension, and then get to work blow drying! It might feel funny at first, but we promise you'll get used to it. When you're ready to style, your hair will be full of newfound volume and you'll be ready to take on the day with confidence.
Buy The Great Inflate on Amazon!
Use the right hairspray
Finding the right hairspray is key to locking in your look and maintaining more body. Our Body Breakthrough is designed to provide you with all-day fullness and help you achieve healthier-looking hair, even after applying heat. The lightweight plumping technology will never weigh you down, so you can enjoy your day in style. 
Buy Body Breakthrough Volume Boosting Hairspray on Amazon!
Add more vitamins to your diet
If you didn't know: adding some extra vitamins into your diet can help you achieve your hair goals and give you healthier-looking hair. Vitamins like Biotin, Vitamin A, Vitamin D, and Zinc can improve the quality of your hair, help it grow, and even give you an extra boost of volume. 
Before adding supplements into your daily routine, you'll want to do your research or reach out to a healthcare professional to ensure they are right for you.
Upgrade your shampoo
Sometimes the reason our hair feels lifeless is because of the shampoo and conditioner we are using. Without even knowing, the ingredients in your go-to shampoo could be weighing your hair down and preventing it from being full of bounce and life. 
If you're looking to upgrade, try our Foam Full Shampoo. This product gently cleanses your hair and has a rich formula that moisturizes your hair and provides more lift than other traditional shampoos. 
Buy our Foam Full Volumizing Shampoo on Amazon!
Play with your part
Have you always wanted to try a middle part, but have been too scared to try? Now, it might be a sign to give it a try. It might sound crazy: but just by changing your part, you might be able to provide your hair with more bounce and volume. When we have our hair parted one way for too long, it gets too comfortable and lays flat. This could be why you feel like your hair is feeling so flat lately.
Consider a hair mask
Some people say the right hair mask will solve all of your problems. We're those people! Whether your hair is in dire need of a hydration boost or needs more attention lately, a hair mask is here to save the day. 
Our Big Revival is a bodifying mask that will restore visual shine and never weigh you down. We recommend leaving it on for 5 to 15 minutes after shampooing. For best results, use the hair mask once or twice a week.
Buy our Big Revival Bodifying Hair Mask on Amazon!
Try a leave-in conditioner
If you've never tried a leave-in conditioner before, it could be exactly what you've been missing. Unlike traditional conditioner, leave-in conditioner is designed to be left in your hair after you wash your hair. The formulas are typically more lightweight: so they won't weigh down your hair. 
If you've never tried a leave-in shampoo, we recommend our High Spirited. This product can add volume to even the finest hair types, leaving your hair ready to style.  
Buy our High Spirited Weightless Leave-In Conditioner on Amazon!
No matter your hair type: you could probably benefit from volume-enhancing tricks, tips, and products. You'd be surprised at how easy it is to improve your go-to hairstyles with some more body and volume. 
Let's take your hair from flat to runway-ready, together. 
Check out our full Volume & Body Collection to find one that's right for you.