The Ultimate Guide to Transitioning Hairstyles: From Work to Evening Glam
September 01, 2023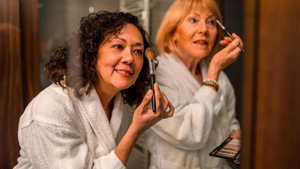 We've all been there – a long day at work followed by evening plans that require a quick transformation from professional to glamorous. Transitioning your hairstyle seamlessly can be a challenge, but with the right tips and products from Orlando Pita Play, you can effortlessly go from the office to an evening event with confidence. In this ultimate guide, we'll walk you through the steps to create versatile hairstyles that are perfect for both work and evening glam.
The Foundation: Clean and Nourished Hair
Before you embark on your hairstyle transition, it's essential to start with a clean and nourished canvas. Begin with Orlando Pita Play's Smoothing Shampoo and Conditioner. These products cleanse your hair without stripping it of essential moisture, leaving it soft, manageable, and ready for styling.
Daytime Chic: Sleek Low Bun
For your daytime look, opt for a sleek low bun – a timeless and polished style that's perfect for the office. Gather your hair at the nape of your neck and secure it with a hair tie. Smooth any flyaways with Orlando Pita Play's The Gloss Up Polishing Cream, which adds shine and tames frizz without weighing your hair down. This style exudes professionalism and sophistication while keeping you focused on your work.
Transition: Half-Up Twist
As the workday ends and your evening plans approach, it's time to transition your hairstyle. The half-up twist strikes the perfect balance between casual and chic. Section off the top half of your hair and twist it into a bun or knot at the back of your head. Secure it with bobby pins and add a touch of volume with a lightweight hairspray. This flexible hold hairspray adds texture and volume for an effortlessly glamorous look.
Evening Glam: Hollywood Waves
Now it's time to elevate your look for the evening event. Hollywood waves exude glamor and elegance, making them a perfect choice for a night out. Start by curling your hair using a curling iron or wand. After curling, brush out the curls to create soft waves. To achieve that red carpet-worthy shine, dab Orlando Pita Play's Argan Oil onto your hair. This oil adds a luminous finish while making your hair more manageable.
Finishing Touch: Sleek High Ponytail
If you're looking for a modern and sophisticated hairstyle for the evening, a sleek high ponytail is an excellent choice. Use a fine-tooth comb to gather your hair at the crown of your head and secure it with an elastic band. Apply Orlando Pita Play's Play Atmos-Shield Thermal Spray before using any hot styling tools. This thermal protector shields your hair from heat damage, ensuring that your ponytail looks flawless all night long.
Bonus Tip: Quick Touch-Ups
Throughout the evening, a quick touch-up can keep your style looking fresh. Orlando Pita Play's Climate Change Hair Spray is your go-to solution. This spray instantly refreshes your hairstyle, adds volume, and protects against environmental damage. Simply spritz it onto your hair and gently tousle for revived volume and texture.
Wind Down: Nourishing Restoration
After a night of glamor, it's important to restore and nourish your hair. Use Orlando Pita Play's Collateral Damage Spray to rejuvenate your locks. This hair spray provides nourishment and repairs damage, leaving your hair looking and feeling luxurious.
In Conclusion
Transitioning your hairstyle from work to evening glam is an art that can be mastered with the right products and techniques. Orlando Pita Play offers a range of products designed to help you achieve versatile looks without compromising the health of your hair. Whether you're opting for a sleek low bun, half-up twist, Hollywood waves, or a sleek high ponytail, these styles can seamlessly take you from the office to the spotlight. With Orlando Pita Play by your side, you're equipped to shine at any moment – no matter the occasion.