The Magic of Multi-Tasking: Versatile Hair Products
July 21, 2023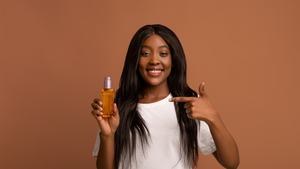 In today's fast-paced world, efficiency and convenience are paramount. We're constantly looking for ways to streamline our daily routines without compromising on results. This holds true not just for our professional lives but also for our personal grooming rituals. When it comes to hair care, finding versatile products that can multi-task and deliver outstanding results is like finding magic in a bottle. Orlando Pita Play offers a range of innovative and versatile hair products that can transform your haircare routine. Let's explore the magic of multi-tasking with these remarkable products.
The Atmos-Shield Hair Protectant Spray:
Imagine a product that not only protects your hair from heat styling tools but also nourishes and enhances its natural beauty. The Atmos-Shield Hair Protectant Spray from Orlando Pita Play does just that. This multi-tasking spray not only shields your hair from the damaging effects of heat but also provides UV protection, prevents color fading, and adds a lustrous shine. With just one product, you can enjoy the benefits of multiple haircare solutions.
Max Capacity Hybrid Hairspray:
We all know the struggle of trying to extend the time between hair washes without sacrificing volume and freshness. Orlando Pita Play's Max Capacity Hybrid Hairspray is a game-changer in this regard. This versatile dry shampoo not only refreshes your hair by absorbing excess oil but also adds volume, texture, and hold! It's perfect for those busy days when you need a quick fix to revitalize your hair and create effortless, red-carpet-worthy styles.
When it comes to styling, we all crave that perfect balance between flexibility and hold. Orlando Pita Play's Play Body Breakthrough Hairspray offers just that. This multi-tasking hairspray provides a firm hold that keeps your style in place all day, while still allowing for natural movement and touchable softness. Whether you're aiming for a sleek updo or bouncy curls, this versatile hairspray is your go-to product for long-lasting, picture-perfect hairstyles.
The Well Behaved Anti-Frizz Serum:
Orlando Pita Play's Well Behaved Anti-Frizz Serum is the ultimate solution for frizz-free, manageable hair. This powerful serum tames unruly locks, nourishes with argan oil, and restores natural balance for stunning, sleek results. Experience the transformative power of this exceptional serum and embrace beautifully behaved, frizz-free hair.
Virgin State Intensive Repair Conditioner:
Orlando Pita Play's Virgin State Intensive Repair Conditioner is a must-have product for those with tangled or knotted hair. This multi-tasking conditioner not only helps you easily comb through your hair but also provides deep hydration and restores shine. Its lightweight formula ensures that your hair remains smooth, manageable, and free from frizz, making it an essential part of your haircare routine.
Conclusion:
In a world where time is of the essence, multi-tasking hair products have become an essential part of our grooming routines. Orlando Pita Play understands the need for versatile solutions that offer exceptional results without compromising on quality. Their range of innovative hair products have proven to be game-changers for countless individuals seeking convenience and efficacy. Embrace the magic of multi-tasking and unlock the endless possibilities for your haircare routine with Orlando Pita Play's versatile products.