The Different Types of Curly Hair: How to Find Your Curl Type
May 20, 2022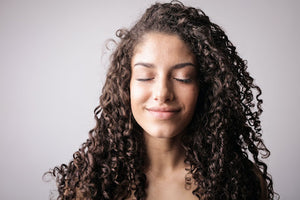 Who doesn't love a natural head of beautiful, luscious curls? I know we do! Natural curls provide the perfect amount of depth and natural elegance. 
However, every curl pattern is different and requires a different amount of maintenance to ensure it looks its best. 
Let's take a look at the nine different types of curly hair and how you can find your curl pattern.
How to find your curl pattern
There are three ways to classify curly hair: wavy, loose, tight, and coily. These hair classifications are labeled: 2, 3, and 4. Within each of these classifications, there are sub-classifications for the width of your hair. These include Type A for a wide pattern, B for a medium, and C for the smallest. 
For example, if you were to have 2B hair, you would have wavy hair with a medium curl shape. 
You'll want to find your curl type to help you find products that compliment your natural hair. So you can flaunt your curls and always look your best. 
Here's a breakdown of the types:
Wavy Hair
2A
2A hair has a combination of straight and wavy ends. It's easy to maintain and style but requires extra volume. 
Look for a shampoo like our Foam Full, it's designed to provide amplified body and refreshing fullness, so your waves can thrive.  
Buy our Foam Full Volumizing Shampoo on Amazon!
2B
If you have 2B hair, you're the queen of beachy waves (and everyone is probably jealous!) This hair type grows straight but has a more defined, larger S shape curl. 
The only problem is: that you often have to fight the frizz. Try our Well Behaved Anti-Frizz Serum to help you tame the frizz and give you a sleek, shiny finish.
Buy our Well Behaved Anti-Frizz Serum on Amazon!
2C
2C has defined waves that start from the crown of the head. It's a happy middle between curly and wavy. 
However, you'll notice your hair doesn't have as many defined coils. You have the same hair problems as 2B and 2A: frizz and volume. 
To give your curls a more defined look, try The Great Inflate. This volumizing styling foam will give your curls a volumizing lift and a touchable hold, so you never need to worry about crunchy curls or stiffness. 
Buy The Great Inflate Air Whipped Styling Foam on Amazon!
Loose Curls
3A
Large, luscious soft curls that lay further from the head and have a gorgeous curl pattern. These are "wavy curls" with a more defined, s-shaped look than wavy 2C. 
To ensure your curls play nice, you'll want to consider incorporating a hair mask into your hair care routine so you can wake up ready to style. Our Satin Pillow is a must-have for loose curls that have protective benefits to promote visually soft and smooth hair.  
Buy our Satin Pillow: Overnight Hair Mask on Amazon!
3B
If you have 3B, you have well-defined, springy curls with tons of natural volume. Some may say you're living the dream! 
However, your hair is extra delicate and is prone to breakage. 
Unfortunately, your curls can also tend to get dry, so you should try The Gloss Up, a weightless polishing cream. This cream will leave you with silky smooth hair and give you the boost of moisture your curls have been craving. 
Buy The Gloss Up Polishing Cream on Amazon!
3C
These curls are small and closer to the head. They are similar to coily curls but have a less defined curl pattern than coils. These curls are densely packed and will need a trusted shampoo and conditioner to breathe life back into your curls. 
We recommend our Smoothing Shampoo and Conditioner Duo. If you have both of these by your side, you'll be able to eliminate product build-up and make your curls more manageable. A win-win situation!
Buy our Smoothing Shampoo and Conditioner Duo on Amazon!
Coily Curls
4A
4A hair has a gorgeously defined, slightly loose S curl but doesn't hold as close to the head as 4B and 4C. 
To ensure these curls have a natural bounce and are always hydrated, try our Argan Oil Shampoo. It contains Moroccan Argan Oil and Soy Protein to help deliver moisture and give you softer, smoother, and healthier hair.
Buy our Argan Oil Shampoo on Amazon!
4B
This hair type has a zig-zag pattern and is the most unique out of the bunch. It's also fragile and needs hydrating ingredients to maintain the beauty of the curl shape.
Try our Uncompromised Intensive Repair Shampoo. This formula can help dry hair look its best and is pH balanced to provide incredible shine with every wash.
Buy Uncompromised Intensive Repair Shampoo on Amazon!
4C
4C features the tightest curl pattern you can find. These tiny coils are extremely fragile and need extra TLC to keep your curls nourished. Leave-in conditioners are going to be your new best friend. 
We recommend trying our Collateral Damage. It's formulated with ceramides and lipids to help smooth the cuticle and improve texture. 
Buy Collateral Damage: Leave-in Conditioner on Amazon!
Alright, curly hair queens! 
It's time to start considering what you can do to enhance your natural beauty and feel confident everywhere you go.