The Benefits of Protein for Hair
June 10, 2022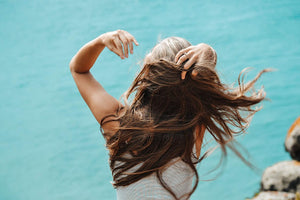 If you didn't know: protein is a fundamental building block of the hair follicle. The hair structure is made up of 95% keratin. 
Healthy, thriving hair has the perfect abundance of protein that helps provide a ton of bounce and life. If you feel like your hair lacks the luster it once had, it could mean that you need keratin. 
The best way to add keratin back to your hair is with a protein treatment. Protein treatments come in different shapes or forms. You can get a salon-quality keratin treatment, a leave-in conditioner, a hair mask, or a spray you can easily add to your hair care routine: for an extra boost of nutrients. 
If you're new to protein treatments, here's everything you need to know:
Signs your hair needs a protein treatment 
High porosity 
High porosity means your hair absorbs too much water. This can lead to frizz, tangles, and unwanted damage. 
No elasticity 
Do you feel like it's getting harder and harder to style your hair? Maybe, you have naturally curly hair that no longer has the same curl pattern it once did. 
This could be a sign your hair is losing elasticity. Elasticity refers to the stretch and bounces your hair has without breakage. 
Your hair falls flat
Some hair is naturally straight. However, if you feel like your hair texture is more stringy and limp than usual: it could mean that your hair lacks the protein it once had. 
Has a sticky texture 
If your hair feels sticky when you go to touch it, it's never a good sign. This sticky or tacky feeling comes from excessive damage and means your hair is in serious need of some TLC.
Benefits of a hair protein treatment 
Prevents damage 
Some protein treatments contain proteins like silk amino acids or hydrolyzed wheat. These proteins provide a protective barrier over your hair follicle and can prevent more damage from happening to your hair. 
Replaces lost protein 
When our hair loses protein, we lose the essential building block for healthy, strong hair. If you have high porosity hair, you'll want to use a protein treatment to add protein back to the follicle. 
By replacing the lost or damaged protein, you can strengthen the hair and seal those unwanted gaps in your hair strands.
Give you that bounce back
Protein treatments are great for treating weak, dry, or brittle hair. If your hair no longer has the same elasticity, you can use a protein treatment to help boost the protein levels and add some life back to your hair. This will make it easier to style with hot tools and improve your overall hair health.
Mends split ends
Split ends can take away from the beauty of your hair or your favorite hairstyles. A protein treatment is a great tool that can help you visibly improve the appearance of split ends, mend breakage, and leave you with visibly healthier-looking hair.
Improves the appearance of hair
Protein treatments work to strengthen the hair follicle and add nutrients back that have been removed from excessive damage. 
A trusted protein treatment will work to nourish the hair strand from the root to the ends, helping your hair look and feel healthier.
Meet your new best friend
Our Former Glory Protein Treatment Spray is a must-try for anyone who has dry, damaged, or brittle hair. It contains a blend of proteins and amino acids that will work to restore and fortify your hair and undo the damage that's caused by styling tools or too much heat. 
It contains hydrolyzed wheat protein, an active ingredient that helps prevent damage and provides a protective barrier to the hair follicle.
It's easy to add to any hair care routine. After you shampoo your hair, simply spray Former Glory evenly onto wet hair. Let it sit for 3-5 minutes and rinse thoroughly. 
This protein treatment can be used alone or followed with a conditioner. We recommend using it 1-3 times a week as a strengthening treatment for damaged hair.
Buy Former Glory Protein Treatment Spray on Amazon!
Hair problems happen to the best of us. If you feel like your hair lacks the protein it needs to thrive, it may be a sign you need to revamp your hair care products and find new go-to products that are jam-packed with the nutrients your hair needs to always look its best. Shop our collection of Orlando Pita Play products today.