The Benefits of Leave-in Treatments for Hair
March 04, 2022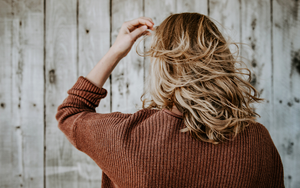 Everyone wants to know what the secret is to perfect hair. The truth is, there are tons of options on the market that you can use that can help you achieve the hair you've always dreamed of having. You just need to find what works best for your hair type and individual needs. 
One of the first products you should try adding to your hair care routine is a leave-in treatment. Think of a leave-in treatment as an add-on to your current hair care routine. You may choose to use it weekly or monthly to hydrate your locks and combat the frizz. Not only that, but these treatments can leave your hair feeling hydrated and full of shine. 
If you haven't used one before, the only thing you won't like is that you didn't start using it sooner!
Let's look at the benefits of leave-in treatments and what exactly they are. 
Your hair will thank us later!
What is a leave-in treatment?
Leave-in treatments are an optional step you add after shampoo and conditioner. No need to worry about rinsing them out later. (that's the best part!) Whether you're trying to control your flyaways between wash days or you want your hair to look its best for a special day: a leave-in treatment can give you the confidence you need. Not only that, but you can find a leave-in treatment that is formulated to treat your unique needs and hair type. 
The benefits of leave-in treatments 
Give your hair extra volume
If you feel like your hair lacks volume and needs some more body, a leave-in conditioner can help provide you with the bounce and lift you need to help you feel confident all day long. Our High Spirited Weightless Leave-In Conditioner is designed to add volume to even the finest hair types. It's formulated with a five-protein complex, which is sure to give you superior softness and silky hydration. 
Buy High Spirited: Leave-in Conditioner on Amazon!
Lock in moisture
If your hair needs a hydration boost, a leave-in treatment can provide you with a nourished look without leaving it feeling weighed down. Which will leave your hair looking and feeling stronger and healthier. 
Treats dry or damaged hair
If your hair feels dry or damaged, it may be a sign that you need to use a leave-in treatment to bring it back to life. Dry or damaged hair can be caused by the weather, how much heat you're applying, or from chemicals or color treatment. Don't worry, it happens to the best of us! 
All you need is a hydration boost that can combat the dry, brittle feeling. We recommend our Collateral Damage Leave In Concentrate to help you smooth the hair cuticle, improve texture, reduce frizz and enhance the shine! This leave-in treatment uses the power of ceramides and lipids and is uniquely designed to help you combat even the worst of dry hair problems. 
Buy Collateral Damage on Amazon!
Combat frizzy hair
Dealing with frizz is never fun. Let's be honest: it can turn any hair day into a bad hair day, fast if your hair refuses to cooperate. A leave-in conditioner can help you fight off the frizziness and control your flyaways all day long. 
Another great leave-in treatment for flyaways and frizzy hair is a serum. Our Magnifying Glass Intensive Serumis a solution for controlling flyaways. Unlike a leave-in conditioner, you'll want to wait for your hair to dry, and then you can use the serum to combat the frizz and fortify hair for a polished finish. 
Buy Magnifying Glass Intensive Serum on Amazon!
A great detangler 
If you're someone who finds that their hair always becomes knotty after a wash day, a leave-in treatment could be the solution you need to fight off the tangles. As you run a leave-in conditioner through your hair, you'll notice that it will slowly detangle your hair, making it easier to comb through while it's wet. 
Get you ready to style 
Many leave-in treatments make it easier for you to style your hair afterward. Since they will help you achieve a look full of hydration and volume, you're sure to be impressed with how easy it is to style. Consider it the "primer" of your hair care routine! 
If you want to take your leave-in treatment to the next level, we recommend our Satin Pillow Overnight Mask. This hair mask will hydrate, replenish, and deliver impeccable shine. Not only that, but it also has a multi-phasic shielding complex, which helps to protect your hair from damage caused by heat. Keep in mind: you'll want to wash this overnight mask out in the morning. 
Buy Satin Pillow: Overnight Hair Mask on Amazon!
Pro tip: you can pair your favorite leave-in treatment with our Atmos-Shield to help you protect your hair from the damage caused by styling tools!
No matter your hair type, there is sure to be a treatment out there to help you reach your hair goals. Don't be discouraged by bad hair days. Once you find a product that works for you, your best hair days will be right around the corner!