The Benefits of Hair Masks
April 29, 2022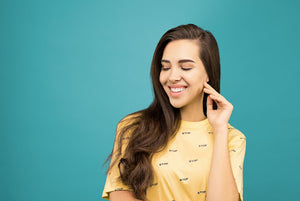 Let's be honest: we put our hair through a lot! Everything from styling tools and weather changes to tying your hair with a rubber band every day. Even if you try to avoid all of these things, your hair is still subject to damage from external factors like pollution and UV exposure. 
Don't worry: this doesn't mean you need to give up styling or being in the sun to get the perfect hair you want. A hair mask can provide your hair with the love it needs to look its best, no matter what you put it through. 
Let's take a closer look at everything you need to know:
What is a hair mask?
A hair mask is just like a face mask, but it's for your hair! It's an extra step you add to your hair care routine once or twice a week for an added hydration boost or damage repair. These work as an addition to your current hair care routine and aren't designed to replace your go-to products. 
They're similar to your conditioner, however, it's more like a deep conditioning treatment. You typically leave them on for a lot longer - from 20 minutes to all night. Once you apply it to your hair, it will work to penetrate deep into your follicle and restore from the inside out.
The benefits of using a hair mask
Repairs hair damage 
We all have some hair damage, and that's okay! The good news is: the right hair masks can help repair this damage, mend split ends, and provide your hair with an enhanced, healthier look.
A moisture boost
Hair masks use ultra-hydrating ingredients to give your hair the nutrients it needs for maximum hydrating. If you have dry hair, you can use one once a week to help replenish hydration and combat the brittle hair feeling.
Provides your hair with extra shine
Most masks typically contain oils, minerals, and nutrients designed to give your hair an incredibly smooth and glossy finish. 
Finding a hair mask for your hair concerns
Damaged Hair
Overly damaged hair is never fun to deal with and can be even harder to style. We recommend trying our Time Capsule Fortifying Treatment Mask. It's formulated with a blend of natural oils to provide your split ends and unwanted damage with vital nutrients. If you have extreme damage, we recommend leaving it on for an extra 5 to 15 minutes for best results. 
Buy Time Capsule Fortifying Treatment Mask on Amazon!
Dry Hair
If your hair is dry and needs a hydration boost, our Satin Pillow Overnight Hair Mask is here to save the day! This formula uses an Exclusive Multi-Phasic Shielding Complex to help create visible soft and smooth hair after only one use. You'll want to wear this mask overnight to give the formula some time to penetrate deep into the hair follicle. After you wake up in the morning, your hair will be replenished and have the incredible shine you've been craving. 
Buy Satin Pillow: Overnight Hair Mask on Amazon!
Dull Hair
Does your hair lackluster, or is it prone to unwanted frizz? We're here to help! Our Big Revival Bodifying Hair Mask is designed to add life and bounce to your hair without ever weighing it down. After one use, you'll notice a visible difference in texture and volume.
Buy Big Revival Bodifying Hair Mask on Amazon!
Color-Treated Hair
If you have color-treated hair, you'll need to upgrade your hair care routine to ensure it stays healthy and vibrant. Our Purifier Vinegar Cleansing Mask can help cleanse your hair and leave it feeling replenished and moisturized. It utilizes an exclusive Prisma Plus Enhancing Complex to help boost shine and gently clarify, which will leave your hair color looking as vibrant as it did when you left the salon. 
Buy Purifier Vinegar Cleansing Mask on Amazon!
If you think you've perfected your hair care routine, think again! The right hair mask can do wonders for your hair and give it the smooth shine and healthy look you've always wanted.
When it comes to hair masks, it's all about finding the perfect one that meets your needs. Don't be afraid to experiment and try out a few until you find one you like. Once you find a hair mask that you love, the only thing you will wish for is that you started using it sooner.