The Benefits Of Deep Conditioner
November 11, 2022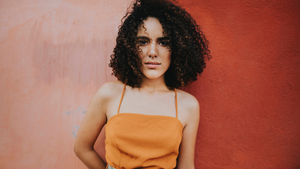 Do you feel like you're always combating dry hair, split ends, and breakage? It may be a sign that your products aren't hydrating your hair enough. To achieve healthy, hydrated locks: You need to look for products formulated with hydrating ingredients. 
That's where deep conditioners come in. These products are ultra-hydrating and beneficial for hair that needs a little extra TLC. They're designed to breathe life back into damaged hair and give you that extra boost of confidence you need to feel good about your hair.
If you've never incorporated one in your hair care routine, here's everything you need to know:
The Benefits of Deep Conditioners
Ultra Hydrating
Sometimes, your go-to conditioner is not enough for your hair. Your hair needs more (and deserves more!) With a deep conditioner, you can breathe life back into the individual strands of your hair and provide all the nutrients it needs to feel hydrated and moisturized again. 
If you aren't sure if you're using the right conditioner for your needs, look at the ingredients! Always keep an eye out for hydrating ingredients formulated for your concerns.
Prevent More Damage From Forming
Prevention is key to maintaining the integrity of your hair. With a deep conditioner formulated with the right ingredients, you'll prevent more damage from forming and maintain the appearance of your lovely locks. When your hair is hydrated and moist, it's also easier to resist damage caused by outdoor factors. 
Repairs Damaged Hair
Split ends, breakage, chemical processing, and dryness can all impact your hairstyles and confidence levels if you leave them untreated. If your hair has suffered from damage recently, it may be a sign you need a deep conditioner. These formulas will improve your hair health and help you feel confident. Keep in mind: Consistency is key! You'll want to make your deep conditioner part of your hair care routine to reap the benefits.
Restore and Retain Moisture 
Deep conditioners help you restore and retain all-day moisture, especially for dry hair. The formulas help lock in hydration and give you the confidence you need to flaunt your favorite hairstyles. 
Hair Elasticity 
Hair elasticity is how flexible and stretchy your hair is at its normal state. Elasticity is a good indicator of your overall hair health. To find your hair elasticity, take a strand of hair and wet it. From there, stretch it as much as you can in different directions. 
If your hair doesn't fall back to its normal state or breaks in the process, you may have low elasticity and could benefit from a deep conditioner. 
How Orlando Pita Play Can Help
Our Weightless Leave-In Conditioner is formulated with Sunflower Seed Oil, Hydrolyzed Wheat Protein, Soybean Extract, and other nourishing ingredients your hair needs to thrive. After your regular hair care routine, spray and comb HIgh Spirited throughout the strands. The formula will work to add volume to even the finest hair types and give you that weightless moisture you crave. 
Perfect for: Color or Chemically Treated Hair, Tangled Hair, Dry Hair, Dull Hair, and Oily Hair
If you're suffering from split ends and damage you can't shake, it's time to bring in the intensive repair formulas. Our Virgin State is formulated with our exclusive Fortifinity Complex® to help smooth the hair cuticle and restore dry, damaged hair. The Silk and Wheat Proteins will help prevent more damage from occurring. (so you can still use your favorite styling tools!) 
Perfect for: Tangled Hair, Dry Hair, Damaged Hair, Color or Chemically Treated Hair, and Split Ends
Get your boost of essential moisture and shine with our dual-phase silicone blend. This smoothing conditioner provides a protective property that helps block humidity, heat, and environmental stressors that cause damage to your lovely locks. After using your regular shampoo (or our Pearl Foam™ Smoothing Shampoo!) you'll want to apply the conditioner to your wet hair from root to tip. Leave it on for 2-3 minutes, and let the nourishing formula work its magic. 
Perfect for: Frizz Prone Hair, Color Treated Hair, Damaged Hair, and Dry Hair
Upgrade Your Hair Care Today
Ready to get more from your hair care products? You've come to the right place. At Orlando Pita Play, We specialize in creating hair care products with high-end, nourishing formulas you won't find anywhere else. 
Ready to get more from your hair care? Start shopping for our selection of products today.