The Benefits of Argan Oil
August 26, 2022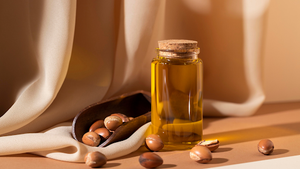 Argan oil is extracted from the argan tree. It's one of the most popular beauty components hiding on the ingredient list of your favorite products. It's rich in antioxidants, vitamins, and the fatty acids our hair needs to thrive - what more could you need?
If you aren't sold on the wonders of argan oil just yet, don't worry: we're here to break it down for you.
Here's everything you need to know about the benefits:
Helps with hair elasticity 
This oil also contains phenols and antioxidants. These two ingredients increase cell production on the scalp, strengthen your hair, and improve the overall elasticity of the individual strands.
Hydration properties 
Argan oil is the holy grail of moisture and the go-to ingredient when you need that extra hydration boost. It's jam-packed with fatty acids like oleic acid and linoleic acid. Both of these ingredients lubricate your hair shaft and help lock in moisture.
Antioxidant-rich 
Antioxidants are a must-have ingredient we need for our body, skin, and hair. They help improve hair growth and maintain collagen in the hair follicles. 
Antioxidants also work to fight off free radicals. Large amounts of free radicals can cause your hair to age faster and accelerate the aging process of each strand.
Natural heat protectant
Did you know some individuals use argan oil as a natural heat protectant? Since it can withstand high temperatures, it's excellent for preventing damage caused by styling tools and UV rays.
Prevents splitting and breakage 
The vitamin E within argan oil is a core component that helps prevent your hair from splitting and breaking. By making argan oil part of your daily routine: You're taking the extra steps you need to keep your hair looking and feeling thicker, fuller, and healthy. 
Scalp health
Argan oil has anti-inflammatory properties and antioxidants, making it also great for your skin and your skin on the scalp. With argan oil, you may be able to prevent or improve skin conditions that lead to hair loss, like psoriasis or seborrheic dermatitis. 
Promotes shine and softness 
After using a shampoo or conditioner rich with Argan oil, you may notice your hair has an incredible shine! Vitamin E acts as a lubricant for your hair and scalp. Which helps prevent unwanted dryness, reduce frizz, and give you an extra boost of shine. With one use of an argan oil-rich product, you'll see a noticeable difference in gloss and shine!
Best hair types to benefit from argan oil
If you're looking to use argan oil in your hair in its most natural form, it's great for individuals with thick or curly hair. However, this oil may be too heavy for people with fine or thin hair, which can cause your scalp to look overly oily. 
All hair types can benefit from these lighter versions. If you want to experience the benefits, we recommend trying a shampoo or conditioner that contains argan oil. 
Adding argan oil into your hair care routine with 
Sold on argan oil yet? We bet you are! If you're ready to experience the benefits first-hand, we recommend trying out a shampoo and conditioner, like our Argan Oil Glossing Shampoo & Conditioner Duo. This duo is the answer to all of your hair care concerns. This salon-quality duo gently yet effectively cleanses hair to provide a sleek finish. 
The nourishing Moroccan argan oil and soy protein provide much-needed moisture to enhance your natural shine and improve hair manageability. After just a few uses, you'll have softer, healthier-looking hair! Both products are developed for all hair types and are safe for colored-treated hair.
Shop Argan Oil Glossing Shampoo & Conditioner Duo on Amazon!
Upgrade your hair care with Orlando Pita Play
Our salon-quality products are formulated with ingredients that will make a difference in your hair care routine. Whether you have a head full of beautiful curls or straight and sleek hair that needs extra care: We have you covered. Shop our collection of hair care essentials today.