The Art of Hair Accessories: Elevating Your Hair Game with Scarves, Clips, and Headbands
May 12, 2023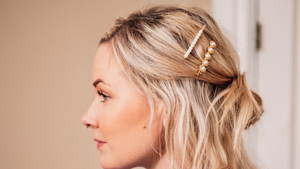 Hair accessories are a great way to elevate your hair game and add some personality to your look. From scarves to clips to headbands, there are so many options to choose from. In this blog post, we will explore the art of hair accessories and introduce some of the best hair accessories and hair products from Orlando Pita Play that can help you take your hair game to the next level.
Scarves
Scarves are a versatile and stylish hair accessory that can add some flair to any hairstyle. Whether you wear it as a headband or tie it around a bun or ponytail, a scarf can instantly elevate your look. They are always perfect for adding some shine and elegance to your hair.
Pro Tip: To prevent your hair from flying all over the place when you need to adjust or take off your scarf, apply our Well-Behaved Anti Frizz Serum before styling your hair. This way, you can ensure your hair stays well-behaved and in place, no matter what!
Hair Clips
Hair clips are a classic hair accessory that can be both functional and fashionable. Use them to keep your hair out of your face during workouts or to add some sparkle to a special occasion hairstyle. They come in a variety of shapes and colors to match any style you're going for!
Pro Tip: To make sure that your hair clip style lasts all day and to avoid any pesky flyaways, apply a generous amount of our Body Breakthrough Hairspray. This will give your hair the hold it needs and ensure a flawless look that lasts for hours!
Headbands
Headbands are a go-to hair accessory for athletes and fashionistas alike. They can keep your hair in place during workouts or add a pop of color to your everyday look. These headbands are perfect for athletes as they can absorb moisture and keep your hair dry during even the toughest workouts.
Pro Tip: To add frizz control and reduce excess moisture in your headband, apply some of our Climate Change Hairspray before putting on your headband. This will help to keep your hair looking smooth and in place, no matter how active you are.
Scrunchies
Scrunchies are a blast from the past that have made a comeback in recent years. They are a gentle and stylish way to tie back your hair without causing damage or breakage. They're perfect for adding some shine and luxury to your hairstyle!
Pro Tip: To keep your ends looking and feeling healthy and shiny, apply our Gloss Up Polishing Cream to them before putting your hair up. This will help to nourish and protect your ends, leaving them with a glossy and polished finish.
Conclusion
Hair accessories are a fun and easy way to add some personality and flair to your hair. At Orlando Pita Play, we offer a range of hair products to compliment your accessories and take your hair game to the next level. Try out scarves, hair clips, headbands, and scrunchies to find the perfect accessory for your unique style. 
Shop our collection today and elevate your hair game with our high-quality hair products!