Sweet Almond Oil: How to Use It in Your Hair Care Routine
September 16, 2022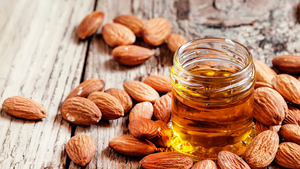 You've probably heard about the long list of benefits sweet almond oil has for your skin, but did you know it's also great for your hair? This nourishing oil is a buzz-worthy ingredient full of beneficial hydrating properties.
If your ends are dry or your hair needs some extra hydration, you've come to the right place! 
Here's everything you need to know:
What is sweet almond oil?
Almond oil is derived from almonds, and the oil comes from pressing the nuts into the oil. Almond oil is considered an essential oil, and sweet almond oil is a carrier oil. 
The reason we see this ingredient in many popular skincare and hair care products is that it's jam-packed with nutrients! Sweet almond oil contains vitamin E, vitamin A, and vitamin B, and has much-needed fatty acids, like omega 6 and 9. 
Here's how your hair can benefit:
That extra hydration boost
Almond oil is insanely hydrating. Since it contains fatty acids, it's an essential ingredient for helping manage dry hair, eliminating frizz, and providing you with that high-quality shine you've been craving. 
When used regularly, it can help provide you with that smooth and silky feeling that will last you all day!
If you want to experience the smoothing effect, we highly recommend Magnifying Glass Intensive Serum! It contains three ultra-hydrating ingredients: avocado oil, coconut oil, and sweet almond oil. 
All of these ingredients work together to provide a protective layer to the hair, eliminate frizz, and leave you with visibly healthier-looking hair.
Shop Magnifying Glass Intensive Serum on Amazon!
Protect against routine damage
Let's face it, we put our hair through a lot! Whether it be your daily styling routine, brushing curly hair with the wrong brush, or dying it every season, all of this routine damage can start to catch us with your hair if you aren't careful. 
Sweet almond oil contains the needed nutrients to strengthen the individual follicles and breathe life back into damaged hair. 
When added to your daily routine, it can be a beneficial ingredient that will help strengthen your hair and eliminate unwanted brittleness.
The best way to incorporate more sweet almond oil into your hair care routine every day is to start in the shower. Our Argan Oil Glossing Shampoo and Conditioner Duo contains avocado oil, argan oil, soy protein, and sweet almond oil, four must-have hydrating ingredients. The formula is developed for all hair types and can help enhance shine and improve manageability, to give you that softener, smoother look you've always wanted.
Shop our Argan Oil Glossing Shampoo and Conditioner Duo on Amazon!
Helps with hair texture 
Are you someone who is always combating frizz? Maybe, your dry, damaged ends are getting in the way of perfecting your hairstyles. No matter what it is, sweet almond oil is here to help. For the best results, you'll want to find a leave-in treatment that gets to the root of the problem. 
We recommend our Strong Bond Split End Sealant. After you shower, simply distribute it through your damp or dry hair, concentrating on the ends. The split end sealant will protect your hair from damage and provide a refined, polished finish. 
Shop our Strong Bond Split End Sealant on Amazon!
Promotes hair growth
Yes, it can help with that, too! Sweet almond oil is rich in biotin and vitamin B7, two well-known nutrients that help promote hair growth. 
If you apply sweet almond oil directly to your scalp, the oil can help reactivate your hair follicles and give your hair that extra nudge to help it grow long and beautiful. 
Combat inflammation
As you know, sweet almond oil has its suite of benefits for the skin, including helping combat inflammation. 
Since it has antibacterial properties, it can also help individuals with pesky dandruff who need a good scalp treatment. Simply apply the oil directly to your scalp, and see if it's right for you. 
Get more out of your hair care routine with Orlando Pita Play
If you want to experience the benefits of sweet almond oil, you've come to the right place! We have several products that contain this beneficial ingredient. If you find something you like, make sure to take a look at our ingredient list!
At Orlando Pita Play, we only formulate the best of the best. We want to help you reach your hair care goals and get more out of your routine. Start shopping our collection of hair care products today to find the right products for you.