Styling Short Hair with Confidence: Orlando Pita Play's Tips for Chic Cuts
September 08, 2023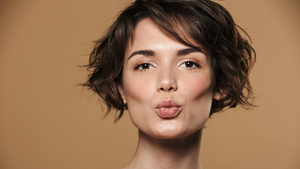 Short hair is all about making a bold statement, showcasing your unique style, and embracing the beauty of simplicity. Whether you've recently chopped off your locks or you're a seasoned short hair enthusiast, styling short hair can be an exciting journey. With Orlando Pita Play's expert guidance and a range of curated products you can rock your chic cut with confidence. In this blog post, we'll delve into Orlando Pita Play's tips for styling short hair and achieving stunning looks every day.
Start with a Fresh Canvas
The foundation of any great hairstyle is clean and nourished hair. Begin your short hair styling routine with Orlando Pita Play's Argan Oil Shampoo and Conditioner. These products cleanse your hair without stripping it of essential moisture, ensuring that your short locks are ready to shine.
Embrace Natural Texture: Effortless Waves
Short hair is an excellent canvas to embrace your natural texture. Create effortless waves by applying a texturizing spray, such as Orlando Pita Play's Volume Boosting Spray, to damp hair. Scrunch your hair with your hands to enhance the waves and allow your hair to air dry for a carefree and chic look.
Add Volume: Lifted Pixie
For a lifted and voluminous pixie cut, Orlando Pita Play's Max Capacity Hybrid Hairspray is your go-to product. After styling your hair, apply the hairspray at the roots and tousle your hair for added volume and texture. This versatile hairspray offers flexible hold and adds dimension to your short hair.
Sleek Elegance: Classic Bob
If you're sporting a classic bob, achieving a sleek and elegant look is a breeze with Orlando Pita Play's products. Apply The Well Behaved Serum to add shine and manageability to your hair. This serum tames frizz and provides a luxurious finish to your bob, making it look effortlessly polished.
Playful Texture: Short Shag
Short shag hairstyles thrive on texture and movement. To enhance the playful texture of your short shag, use Orlando Pita Play's Body Breakthrough Hair Spray on dry hair. This spray adds body and definition, giving your short shag an edgy and contemporary vibe.
Experiment with Accessories: Hairpins and Headbands
Short hair opens up a world of accessories to play with. Experiment with hairpins, headbands, and clips to add a touch of flair to your style. A lightweight hairspray can help secure your accessories in place while maintaining the natural movement of your hair.
Easy Elegance: Side-Swept Bangs
For short hair with side-swept bangs, achieving an easy and elegant look is effortless. Blow-dry your bangs to the side using your fingers for a relaxed and chic appearance.
Effortless Cool: Messy Pixie
A messy pixie cut exudes effortless coolness. To achieve this look, work a small amount of texturizing paste through your hair. Ruffle your hair with your fingers to create a tousled and carefree vibe that's perfect for everyday wear.
In Conclusion
Styling short hair with confidence is all about embracing your unique style and making the most of your chic cut. With Orlando Pita Play's expert tips and a range of high-quality products, you can achieve a variety of looks that showcase your short hair's versatility. From effortless waves to voluminous pixies and sleek bobs, there's no limit to the stunning styles you can create. So, rock your short hair with confidence and let Orlando Pita Play elevate your chic cut to new heights of beauty and style.