How to Use Hairspray More Effectively
January 13, 2023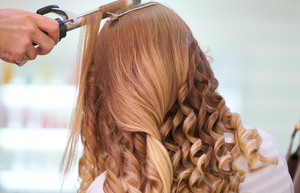 Hairspray is an effective way to maintain your mane and help you achieve a put-together look. Whether you have a special event or you're headed in for an eight-hour shift and want your hair to look great: You'll need a trusted hairspray by your side to give you that all-day hold you need. 
However, you can't just spray down your hair and run out the door. There is an effective way to utilize hairspray to help you achieve a flawless finish. 
Here's how to use hairspray effectively:
Do you actually need to use hairspray?
The short answer is yes! If you're getting ready to go out on the town or have a special occasion, you'll want a trusted hairspray by your side to help you lock in your style. 
Hairspray is also used for more than just giving you an all-day hold. It's also used to help you achieve a more voluminous look and give you an extra lift. 
If you're constantly combating frizz and flyaways, hairspray can also be a great tool for eliminating these imperfections and giving you extra hold without weighing down your hair.
A step-by-step guide to using hairspray effectively
Apply to clean hair
For hairspray to work its best, you want to apply it to clean hair. Before you style your hair or add any curls, wash your hair with your favorite shampoo and conditioner or rub dry shampoo into your scalp.  
The hairspray won't work as effectively if you have too much product build-up or excess grease on your scalp.
Your hair also needs to be completely dry before spraying it down. If it's damp or towel dried, it won't work how you want it to. 
Have the right hairspray
All hairspray is formulated differently. Whether you're looking to achieve extra volume, improve manageability, or need an all-day hold: There is a hairspray designed with what you need. When shopping for hairspray, consider your unique needs and always take a look at the ingredients. 
Spray from a Distance
When you apply your hairspray, you don't want to hold it too close to your head. If you are too close, it will make your hair appear greasy. For the best results, you'll want to hold it at least five to six inches away from your head. 
Pro tip: Want to achieve extra volume? Flip your hair upside down and give it an extra spritz! This will add some extra volume and body! (You'll thank us later!) 
Get your hairspray everywhere! 
Lastly, make sure you spray it evenly and concisely. If you forget to spray the back of your head, your curls may fall out in the back halfway through the day. 
But before you go overboard - remember moderation is key. you'll want to be mindful of how much hairspray you use. If you apply too much, it can leave your hair sticky or hard. 
Orlando Pita Play Hairsprays 
The right hairspray can make or break your hairstyle. If you aren't giving your hair a great spritz before you take on the day, your favorite hairstyles may not have the same volume you desire. 
Here's a look at what we offer at Orlando Pita Play:
Want to add extra body to your favorite hairstyles? Body Breakthrough is what you've been missing. This expert formula is formulated with lightweight plumping technology. After you style your hair, spray it all over for extra fullness and volume.
Do you struggle with keeping your hair looking its best in the humidity? Climate Change is our humidity-blocking hairspray. It's designed to protect your hairstyles and provide an all-day hold, so you can lock in your favorite styles and take on the day in confidence. 
Do you hate applying hairspray right after drenching your hair in dry shampoo? All of that product buildup in your hair is only causing damage and discomfort. Our Max Capacity is a hybrid hairspray that provides the benefits of dry shampoo with enhanced lift, texture, and a touch of sheer hold. The unique formula absorbs excess oil and impurities for fuller looking plush locks.
Take Your haircare routine to the next level
Hairspray is a must-have hair essential. However, if you aren't using it effectively or don't have the right products - you'll never be able to reap all the benefits. 
At Orlando Pita Play, all of our hairsprays are made to elevate your hairstyles and give you a more polished, finished look. They'll provide you with that all-day hold you need to look your best for every occasion.