How to Use Dry Shampoo
December 23, 2022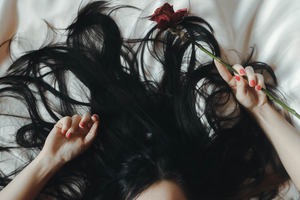 Do you feel like your hair looks dull and dry between wash days? Do you find that you're constantly combating excess oil after the gym or in humid climates? Trust us - we've all been there. 
Dry shampoo can be your saving grace during the busy work week or if you need a quick and easy solution to help eliminate dirt and grease forming on your scalp. These products typically come in a spray bottle and are formulated to quickly absorb the unwanted oil that may gather on your scalp, helping you achieve visually cleaner-looking hair. 
We're here to walk you through the basics of dry shampoo so you can start incorporating a trusted formula into your routine.
How to use Dry Shampoo 
Step 1: Check your roots and hair for excess oil. Dry shampoo works best when your hair feels oily around the hairline. 

Step 2: Hold your dry shampoo at least four to six inches from your roots. Spray one section of hair at a time and directly at the roots.

Step 3: Massage the product into your roots with your fingertips. This helps the oil quickly absorb into the scalp and provides extra lift. 

Step 4: For extra fullness, flip your hair upside down and continue massaging the product into your scalp.

Step 4: Brush your hair and style it how you please.
When to use Dry Shampoo
To Prevent Unwanted Oil Buildup 
Whether you're headed to the gym or on a time crunch before work: Dry shampoo is there to help eliminate any unwanted dirt and grease. The mist is formulated to absorb excess oil and is the perfect hair refresher between wash days.
Added Texture 
Is your hair thin, fine, or limp? Does it take away from your favorite styling techniques? If your hair is falling flat and needs extra oomph, spraying it with dry shampoo is a great way to add texture and give you that extra added grip before throwing your hair into a ponytail or messy bun.
Make Your Hair Styles Last Longer
If you're styling your hair every day and using several hair care products, it could start to weigh down your hair. With dry shampoo, you can easily remove impurities and refresh your hair strands to increase the longevity of your favorite styles, so you don't need to go overboard on serums and hair sprays.
Dry Shampoo For Hair Type
When shopping for a dry shampoo, you'll want to consider your hair type and texture. Most high-end formulas work the same. So, you'll want to focus on the application process to see results. 
Fine Hair 
You'll want to look for a volumizing formula that will breathe life into your tired strands while achieving fullness. After applying your dry shampoo, leave it on your hair for 30 to 60 seconds before massaging it into the scalp. This will ensure all excess oil and sebum are fully absorbed, and your hair looks clean and ready to go.
Thick Hair
You'll want to look for a lightweight formula that won't weigh down your hair. When you apply the dry shampoo, aim for oily spots on your scalp at the crown of your head and the hairline. 
Orlando Pita Play Dry Shampoos
Highly Coveted
Our Highly Coveted is a dry hair shampoo that plays well with all hair types. It's formulated with rice starch to revitalize hair and acai and passionfruit seed oils to help you revive dull hair and add that extra boost of fullness.
Max Capacity
If you have dull or fine hair, consider our Max Capacity. This is a hybrid dry shampoo and hair spray with an expert blend of micronized powders to create a multi-functional mist. Target the scalp in sections and massage it into the scalp to eliminate excess oil and remove impurities for fuller-looking plush locks.
No matter which dry shampoo you choose, you can expect the best of the best. At Orlando Pita Play, all our hair care essentials are expertly formulated to help you achieve healthier-looking hair and give you that extra layer of fullness you've been craving. 
Start exploring our collection of high-end hair care solutions to get started.