How to Style Your Ponytail
December 02, 2022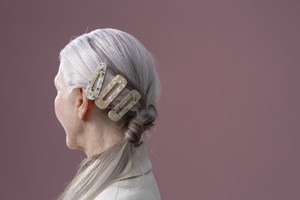 If you have long hair that's a pain to maintain, you may feel like you've exhausted all possible hairstyles you can think of. We get it. It's easy to fall into the routine of throwing your hair into a traditional ponytail before you take on the day. After a while it may leave you feeling bored with your hair. 
If you're tired of styling your hair in the same boring ponytail and wish there was a way you could get more volume from your favorite styles, you've come to the right place. 
Here are a few simple ways to elevate your ponytail and achieve a sleeker look.
Knotted Ponytail
Get an elevated look of sheer beauty with a knotted pony. To master the elegant hairstyle, tie your hair in a ponytail like you usually do. Once your hair is tied with a hairband, you'll take a small portion of the hair and wrap it around the hairband. Secure it with a bobby pin, and you're good to go. This is a great way to hide those pesky hairbands and is perfect for special occasions. 
To achieve the knotted ponytail look, you'll want to keep your hair sleek and chic with our Magnifying Glass. This intensive serum is formulated with Inka Omega and Chia Seed Oils. Once your hair is in a knotted ponytail, run your fingers through the ends with this serum. This will nourish your dry or damaged ends and provide a more pristine look.
High Ponytail
Take your ponytail to new heights with a lifted ponytail style. All you need to do is pull your pony away from the nape of your neck and up toward the middle of your head. This will create a more dimensional, playful look that you can easily dress up or down. 
This hairstyle is ideal for long and curly hair. If you have curly or wavy hair that needs extra help to maintain, you may want to revive your tired curls with an anti-frizz serum like Well Behaved. This serum is formulated to smooth the cuticle and treat your split ends, helping you achieve soft, silky, healthier-look hair. Once you have your hair in a high ponytail, use Well Behaved as a finisher to eliminate unwanted frizz and give your hair a polished finish.
Braided Ponytail
Combine the best of both worlds with a braided ponytail. All you need to do is put your hair in a high or low ponytail position and secure it with an elastic. Then brain your hair how you would normally and secure it with a second elastic at the bottom. This is a great hairstyle for long days at the office, brunch dates with friends, and even the gym. 
If you have long hair that you find hard to maintain, this can be a great way to achieve an elevated look with minimal effort. Since your hair will be in a braid, you don't need to worry about unwanted frizz or flyaways. Our go-to solution for managing frizz is our Pearl Foam. This is a smoothing shampoo with intense hydrating properties that helps with frizz control and reduces the effects of humidity.
Twisted Ponytail
A twisted ponytail is a fun, chic way to literally add a twist to your favorite hairstyles. All you need to do is pull your pony to the top of your head and secure it with an elastic. Divide your hair into two sections and twist them together. Secure it with another elastic, and you're ready to go.
A twisted pony looks best when you have little to no visible damage. If your hair is prone to split ends or has unwanted dryness you're looking to remedy, try our Strong Bond. This split-end sealant is formulated to help bind frayed ends and provide a smooth, refined finish of sheer beauty.
Elevate Your Ponytail Styles With Orlando Pita Play
If you're serious about taking your ponytail styles to the next level, you'll need to prioritize high-end products with nutrient ingredients in your hair care routine. Our curated collection of hair care essentials is expertly formulated to help you combat hair problems, fight off frizz, and give you that smooth, sleek hairstyle you've been craving. 
Start shopping today to experience the Orlando Pita Play difference.