How to repair damaged hair
March 11, 2022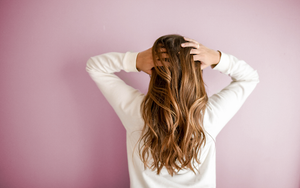 Do you struggle with dry or damaged hair? There's no need to panic. It happens to the best of us! 
However, you will want to revisit your hair care routine to see if there is anything you can do to prevent more damage from happening. It's time to retire the hair wand or straightener and get you on the road to recovery. 
We're here to show you the must-haves you'll need in your routine to prevent damage and keep your hair looking healthy moving forward. 
Trade-in your current shampoo and conditioner 
If your hair suffers from any damage, you'll need a shampoo and conditioner that's formulated to pump life back into your hair and let your natural beauty shine. 
Since your hair is likely delicate, you'll want to use something that's not too strong or overwhelming. 
Consider trying our Uncompromised Intensive Repair Shampoo and Conditioner. This formula is gentle and pH balanced, which means it will work to replenish moisture, leave a stunning shine, and always cleanse your hair. 
Buy Uncompromised Intensive Repair Shampoo on Amazon!
Get your hair trimmed regularly 
Make sure you're getting a trim at least every 12 weeks. Doing this will ensure that you're removing the dead ends, making room for new growth, and getting your hair back to where you want it. 
Plus, if you have a lot of split ends, you won't want those hanging around anyway!
Add a leave-in conditioner into the mix
If your hair is on the road to recovery, it's going to need a little TLC. To do this, you'll need a healing leave-in conditioner like our Collateral Damage to help improve texture and enhance your natural shine. 
This product uses ceramides and lipids to repair the damage and replenish dry, damaged hair. 
Buy Collateral Damage on Amazon!
Invest in a hair mask
For some, a hair mask is a lifesaver that can help give their hair the boost of hydration and nourishment it needs. These are similar to a leave-in conditioner. However, for a hair mask, you only need to use it once or twice a week, and it works to penetrate deeply into your hair strands and nourish them from within.
A hair mask can help rescue the dry, brittle ends and revive your hair, getting it where you want it to be! 
Our Time Capsule Fortifying Treatment Mask contains a blend of natural oils that will work to deliver nutrients to your hair and get to the root of the problem! (see what we did there?)
Buy Time Capsule Fortifying Treatment Mask on Amazon!
Play with a protein treatment spray
Another great option is using a protein treatment spray. These products are made to help revive hair back to optimal visual health and treat any damage that is caused by heat or over-styling. 
Products like our Former Glory Protein Treatment Spray are easy to add to any hair care routine. After you shampoo your hair on a wash day, spray the product into your wet hair and leave it on for 3-5 minutes. 
From there, you can use this 1-3 times a week to help strengthen your hair and get it back to where you want it to be. 
Buy Former Glory Protein Treatment Spray on Amazon!
Take a break from the styling tools
We didn't want to say it… but felt like we needed to. If your hair is in really rough shape, you may want to take a break from styling it and look for some alternatives to get you through the healing process! You never know, you might fall in love with a new look.
Always use a heat protectant
A heat protectant is the holy grail of hair care products. It's a must-have for anyone that styles their hair once in a while or regularly. If you're skipping this step in your hair care routine, you could be risking split ends and irreversible damage on your lovely locks. 
Even if you're taking a break from your hot iron or curling iron, a heat protectant can protect you from outside factors, like UV rays, so you should always give your hair a spritz to be safe. 
The best thing you can do for your hair is to use our Atmos Shield before you style it with a blow dryer, curling iron, or straightener. Doing this will lock in moisture, prevent split ends, and leave you with softer, smoother hair. 
Finish your look with a serum
Once you style your hair, make sure you use a trusted serum to finish the look. A serum can help you mend split ends, elevate your hairstyle, and visibly reduce signs of damage. 
Our Magnifying Glass Intensive Serum uses the power of Inka Omega and Chia Seed Oils to help provide a protective layer and rescue your hair from the effects of damage. For best results, apply after you towel dry your hair or after you style it. 
Buy Magnifying Glass Intensive Serum on Amazon!
Consider a haircut
If you think your hair is too far gone, it may be a sign to rock a short haircut for a while. Don't be afraid to own the look and have some fun. Everyone goes through a short hairdo phase at least once in their life!
Remember: You should never be ashamed of the damage: it happens to everyone! The best thing you can do for yourself is revisit your hair care routine and make small changes that can have a big impact. 
We hope this helps you achieve the hair you've always wanted and push you to find products that can help repair the damage you have. 
our hair after you towel dry or you can use it after styling.