How to Protect Your Hair From Sun Damage
August 19, 2022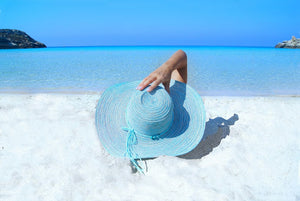 You may have been told that going easy on styling tools is a great way to maintain your lovely locks. However, did you know spending too much time in the sun can be just as damaging? 
If you're obsessed with soaking up the sun but are constantly combating unwanted dryness, frizz, split ends, and more: It may be time to start rethinking your sunbathing routine. The UVB rays can cause serious harm to the outer layer of your hair strand and leave you not feeling as confident as before.
Before you start to panic, here are a few things you can do:
Lay in the shade 
If you're a sun lover, the last thing you want to do is seek shade. However, if you set up an umbrella and take it easy in the shade, you can do your hair cuticles a favor and fend off damage. The less direct sun exposure on your hair, the better!
Wear a hat
Look for hats that are designed with UPF. UPF stands for Ultraviolet Protection Factor and is built into the fabric to provide an extra layer of protection. 
Can't find a hat with UPF? No worries, any hat is better than no hat. Look for a wide brim hat that can completely cover your hair. A baseball cap will only cover the top portion, so be strategic. 
Use a heat protectant
If you didn't know: heat protectants work to protect your hair from all different types of heat, not just your styling tools! When you style your hair and get ready for the day, give it a few good spritzes for that extra boost of protection. 
Our Atmos-Shield is a 10-in-1 thermal heat protection spray that provides an invisible barrier to your cuticle. After you spray it lightly on towel-dried hair, the heat protectant will get to work, helping combat the heat damage caused by UV rays, styling tools, and more.
Consider the UV index
On average, the UV index is the highest between 10 A.M. and 2 P.M. It's recommended to try to wear a hat or avoid direct sunlight during those hours. You'll do your hair (and your skin!) a world of help! 
Try out a hair mask
Look, we get it. Sometimes being in the sun is unavoidable! If you can't avoid the sun but still want to improve the visual look of your hair, try out a hair mask. A hair mask contains nourishing ingredients to help promote visually softer and smoother hair. 
Our Satin Pillow is an overnight hair mask that hydrates and replenishes hair with intense moisture and shine. It contains an exclusive multi-phasic shielding complex that delivers protective benefits.
After a fun day in the sun, leave this hair mask on your hair. Once you wake up in the morning: wash it out, style your hair, and get ready to experience the intense moisture!
Shop Satin Pillow Overnight Hair Mask on Amazon!
Consider a protein treatment
UV rays penetrate deep into the hair cuticle, leaving your ends dry and brittle. If you want to improve the visual health of your lovely locks after a day at the beach or by the pool, consider a protein treatment spray like our Former Glory. 
Upgrade your hair care routine with Orlando Pita Play
This protein treatment will help restore health to damaged hair with a blend of much-needed proteins and amino acids. After shampooing, spray it evenly onto wet hair, let it sit, and then rinse. Use this treatment 1-3 times a week for the best results!
Whether you're headed to the beach this weekend or going on a daily walk, always protect your hair and scalp accordingly! Prevention is key when it comes to maintaining the natural beauty of your hair and keeping your hair healthy, hydrated, and happy. At Orlando Pita Play, we have extra what your hair needs to look and feel its best all year long.
Shop our collection of high-end hair care products today!