How To Prevent Hair Loss During Fall
October 14, 2022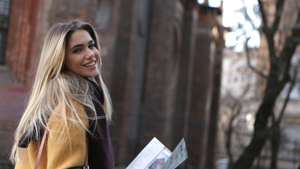 There's nothing worse than feeling like your hair is shedding more than usual during the colder months. You jump in the shower and go to shampoo to find way more hair is falling out every time you run your fingers through your lovely locks. The clumps of hair can be overwhelming, and the entire experience can negatively impact your confidence. 
This is what we call seasonal hair loss. It's common during the colder months of the year. Thankfully you can readjust your daily hair care routine to prevent hair loss and maintain your natural beauty.
Here's everything you need to know:
Keep your scalp healthy
A healthy scalp leads to healthy hair. Your overall hair follicle health starts at the scalp. If you aren't taking care of your scalp health, it could lead to dryness and hair loss. 
Keep an eye out for ingredients like vitamin B6, zinc, and azelaic acid in your hair care products. These are great for keeping your scalp nourished and healthy throughout the fall. Also, look for hair care essentials with turmeric and ginseng extracts. These promote strong hair follicles and can prevent breakage.
If you're noticing ongoing scalp irritation, you may have some product build-up that needs to be addressed. With our Hair Purifier Mask, you can cleanse your scalp and provide your hair with the essential moisture it needs to be happy and healthy throughout fall. This go-to mask is formulated with Exclusive Prisma Plus Enhancing Complex and natural fruit vinegar. Together, these ingredients will work to gently cleanse your scalp and help you reach your hair goals. 
Try a protein treatment 
The cold, dry weather can cause more breakage than you want. Even though your hair isn't falling out, it will leave you feeling like it is. The best way to combat breakage and ensure your hair follicles stay nice and strong throughout fall is with a protein treatment. These treatments breathe life back into dull hair. They help you fend off breakage and restore your hair to optimal health. 
We recommend trying our Former Glory Protein Treatment Spray. This is our go-to protein treatment formulated with a blend of proteins and amino acids. Use this product 1-3 times weekly to restore and fortify hair.
Take a look at your diet
Sometimes your hair is a reflection of your overall health. If you aren't giving your body the nutrients it needs to thrive, it could lead to hair loss or other persistent problems with your hair care. Take a look at what you eat in a day. Make sure you're eating enough fatty acids and iron-rich foods into your diet. These are needed for optimal hair health and can help you combat seasonal hair loss. 
To help you get started, here are a few foods to add to your diet:
Meat, fish, and poultry

Nuts or pumpkin seeds

Leafy greens

Plant oils 
Go easy with the styling tools
You're not going to like this one, but all of those styling tools you use could be what's damaging your lovely locks. Instead of curling or straightening your hair daily, consider going all natural during the colder months. This will give your hair and scalp time to heal from any damage. 
If you have plans coming up and want to use a styling tool, make sure you're always using a heat protectant, like our Atmos Shield. This is our 10-in-1 thermal heat protectant that will protect your hair, seal split ends, and lock in moisture. 
Be careful with your brush
The wrong brush can do way more harm than good. If you feel like you're constantly fighting with your brush and pulling out clumps of hair, it's time to look for a better solution. 
If you keep using your brush with a heavy hand, it can erode the cuticle of the hair fiber. Which will lead to breakage and problems later down the line.
You'll also want to ensure you aren't using a regular brush on your hair when it's wet. When your hair is wet, your hair fibers are swollen. This means they stretch easily and can break due to overstretching. Some brushes are specifically designed for wet hair. These are gentler on the individual hair strands and can help you detangle while in the shower.
Upgrade your fall hair routine with Orlando Pita Play
No one likes dealing with seasonal hair loss. Thankfully, you don't need to do it alone. Our Orlando Pita Play products are formulated to meet your needs to help you combat imperfections and have a gorgeous head of hair all fall long. 
Start shopping today to experience the Orlando Pita Play difference.