How to Perfect a Sleek Bun for Every Hair Type
January 27, 2023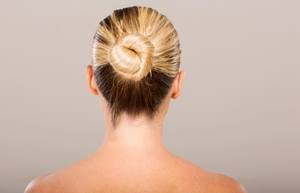 Obsessed with the slick back bun style? We are too! This hairstyle is elegant and effortlessly chic. It's a quick and easy way to add an elevated look to your go-to outfits or for any special occasion. 
However, every hair type is different. This means: If you have curly hair, you may need to take a different approach than someone with straight hair. 
We're here to walk you through how to master the slick back bun for your hair type, so you can start rocking the style everywhere you go. 
Let's take a closer look:
Straight Hair 
Fine, straight, or thin hair is easy to slick back into a bun. What you'll want to worry about is having enough hair to have a full-looking bun you can secure in the back. 
Comb and part your hair down the middle

With a comb, pull your hair back into a ponytail and use an elastic to secure the pony 

Twist your ponytail into a knot and use an elastic to secure it. 

Use a serum like

Well Behaved

to eliminate flyaways and imperfections

If you have ultra fine hair, consider trying the 90s spiky bun style for extra body and volume. 
The spiky bun is a mix between a messy bun and a slick back bun. It's a great added touch for an effortlessly chic style. 
Well Behaved is our anti-frizz serum that can be used as a finisher on dry hair and for a sleek back bun to combat frizz and fortify hair for a polished finish. Don't forget - a little bit goes a long way! 
Wavy Hair
Wavy hair can be wild and untamed! If you want to achieve a sleek bun, you'll want to focus on gelling down all those loose flyaways, frizz, and extra curls that are harder to tame.
Here's what you need to do:
Start by parting your hair down the middle

Slick back your hair using a toothbrush or a small comb and use hair gel

Put your hair into a high ponytail

To achieve a messy bun look full with extra bouncy curls: clip your hair back using clips or Bobbi pins and pull extra curls out

Go around your head one last time with gel and a touch brush or comb

Make sure all edges of your hair are expertly pulled back

Give your head a quick spritz of hair spray, and you're good to go!
To maintain and combat the frizz - use our Magnifying Glass. This intensive repair serum adds a protective layer to prevent frizz and add shine to your sleek back bun!
Curly Hair
If you have a head full of beautiful curls, you'll want to maintain the mane and pull back all your curls to the best of your ability. Don't worry - you can show them off in the bun later.
Start by sectioning off your bangs in a triangle in the middle

Use a coarse brush or brush with gel to pull your hair back around your head

Put your hair into a ponytail 

Unclip your bangs and spray them with water and apply gel

Work them into the rest of your hair and brush them back into the bun 

Let some of your natural curls hang loose and show off!

Give your head a quick spritz of

Max Capacity Hairspray

for added texture & hold, and you're good to go!
Coily Hair 
Coily hair has a zig-zag hair shape full of tight curls and a gorgeous refined pattern. This hair type has tons of body and volume - which is never a bad thing! However, you'll need to take the extra steps to maintain the mane and get the finished look you desire. 
Here's how:
Start with washed, clean hair. If you haven't washed it in a few days, spray it down with a spray bottle

Part your hair down the middle or to the side

Start smoothing it out on each side with

The Great Inflate Styling Foam

and brush your hair back into a bun

Apply edge control to the edges and create face-framing pieces

Use a bristle brush to smooth out any flyaways

If you have shorter hair pieces, you'll want to use a Bobby pin or a clip to pull them back
Level up your hair care game with Orlando Pita Play
At Orlando Pita Play, we have a variety of high-quality serums that will help you master the art of the sleek bun and achieve a more refined finished look every time you get ready to style your hair. 
Start shopping today
to experience the Orlando Pita Play difference.