How to Identify and Style Your Hair Type
March 03, 2023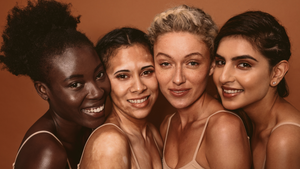 One of the most important factors in achieving a great hairstyle is knowing your hair type. Different hair types require different products and styling techniques, so identifying your hair type is crucial to achieving the best possible look.
There are four main hair types: straight, wavy, curly, and coily. Within these categories, there are also variations in texture, density, and porosity. By understanding these characteristics, you can choose the best styling products and techniques to suit your hair type.
Straight Hair
Straight hair is characterized by its lack of curl or wave. It can be fine, medium, or coarse in texture and is often shiny and smooth. While straight hair may be easier to manage than other hair types, it can still be prone to oiliness and flatness.
For styling straight hair, a volumizing mousse or texturizing spray can add body and movement. The Body Breakthrough Volume Boosting Hairspray is a great choice for fine or limp hair, while the Atmos-Shield Hair Protectant Treatment Spray can help protect hair from heat damage while also providing volume.
Wavy Hair
Wavy hair has a gentle curl or wave, and can range from loose waves to tighter curls. It tends to be more prone to frizz than straight hair, but can also be more voluminous and bouncy.
To enhance waves, use a lightweight styling cream or mousse to define the curls. The Well-Behaved Anti-Frizz Creamcan help tame frizz and enhance waves, while the Gloss Up Polishing Cream can help define curls without weighing them down.
Curly Hair
Curly hair has a definite curl pattern, with curls ranging from loose to tight. It is often dry and prone to frizz, and requires a lot of moisture and care to stay healthy.
For styling curly hair, use a leave-in conditioner or curl cream to define curls and control frizz. The High Spirited Leave-In Conditioner can add moisture and body to curly hair, while the Collateral Damage Leave-In Concentrate can help define curls and control frizz.
Coily Hair
Coily hair is the tightest curl pattern, with coils ranging from tight to super tight. It is the most fragile hair type, and requires a lot of moisture and care to stay healthy.
To style coily hair, use a rich, moisturizing cream or oil to define curls and add shine. Our Argan Oil can help add shine to curls without leaving them crunchy or sticky, while the Strong Bond Split-End Sealant can help tame flyaways and keep your curls in place.
Other Factors
Texture
In addition to hair type, texture is an important factor in choosing the right styling products. Fine hair requires lightweight products that won't weigh it down, while coarse hair requires heavier products to tame frizz and add definition.
Density
Hair density refers to the number of hairs on your head. Fine hair has a lower density than thick hair, which can affect how much product you need to use.
Porosity
Hair porosity refers to how well your hair absorbs moisture. High porosity hair absorbs moisture quickly, but also loses it quickly, while low porosity hair resists moisture absorption.
Style Every Hair Type with Orlando Pita Play
Once you figure out your hair type, you'll be able to construct a haircare routine that works just for you!
Ready to start shopping for your hair type? Shop Now!