How To Get Rid of Split Ends
February 24, 2023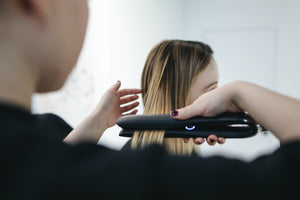 Let's be honest: no one likes dealing with split ends. Split ends are caused by excessive styling, extreme weather changes, and exposure to chemical products. When left untreated, they can take away from your favorite hairstyles and leave your hair looking unhealthy and untamed. 
Unfortunately, split ends can't be repaired. However, there are simple ways to revise your hair care routine to temporarily mend split ends and help your hair look visually healthier. 
Here are seven ways to get rid of split ends:
1. Trim your ends 
If your split ends are out of control, it may be time to trim your ends. Making regular trims a priority will help you maintain the visual appeal of your hair and prevent more damage from forming. Consider trimming your dead ends every six to eight weeks or three to four times a year. 
2. Try a protein treatment
When your hair is severely damaged, it needs extra nutrients to look and feel healthier. Protein treatments are jam-packed with hair-loving ingredients that will temporarily mend split ends and prevent more damage from forming. 
If you want to improve the look and luster of your hair, we recommend using our Former Glory. This protein treatment contains a potent blend of vital nutrients, proteins, and amino acids that work together to restore and fortify hair. To use this protein treatment, you'll want to spray your hair after you wash it with shampoo. Let it sit for 3-5 minutes before applying conditioner and finishing your hair care routine. Use it 1-3 times a week for the best results.  
3. Always use a heat protectant
A heat protectant is your new best friend. If you aren't currently using a heat protectant every time you style your hair, it could be why your ends are dry, brittle, and damaged. 
With our 10-in-1 heat protectant, Atmos-Shield, you can provide your hair with a weightless barrier to protect against damage caused by external factors, pollution, and styling tools. 
4. Use a hair mask weekly 
If you have dry, dull ends that are taking away from your favorite hairstyles, it's time to hydrate. Hydration is a must-have to preserve your hair's natural beauty. With a hair mask, you can keep your ends hydrated and improve the visual appeal of your hair. 
Consider using a hair mask like Time Capsule. This fortifying treatment contains a blend of nutrient-rich oils that nourish, soften and maintain your shine. If you're dealing with excessive damage, you'll want to leave it on your hair for at least 5-15 minutes. 
5. Revisit your hair care products 
Are you still using drugstore shampoos and conditioners? Have you checked to see if your shampoo contains sulfates or alcohol? Some shampoos and conditioners are formulated with alcohols and sulfates that can cause more harm than good to your hair. Harmful add-ins can strip your hair of natural oils, leading to dry split ends and unwanted visual damage. 
The best shampoo for damaged hair is Uncompromised. This intensive repair shampoo is formulated to nourish dry, over-processed strands. The formula is gentle yet effective, protecting your hair from future damage and mending your current split ends.
6.  Use a split-end sealant 
If you're looking for a quick and easy solution for taming split ends, try a split-end sealant. While they won't fix the damage, they will improve the visual appeal of your hair, so you can confidently rock your favorite styles. 
Strong Bond is a split-end sealant that can help hydrate frayed ends while providing a touchable, light-style hold. This exclusive shielding complex creates a barrier around the individual hair strands, protecting your hair, and providing a refined finish with every use. 
7. Limit hot showers 
Hot showers can strip your scalp of natural oils, leaving your hair dry, dull, and damaged. If you're regularly taking hot showers, it can eventually lead to split ends, breakage, and unwanted damage. Consider switching to lukewarm or cool showers whenever you wash your hair. This will help you prevent breakage and preserve the oils on your scalp. 
Combat split ends with Orlando Pita Play
It's time to say goodbye to split ends for good and build a hair care routine that helps you see results. At Orlando Pita Play, we are dedicated to developing next-level formulas and hair care essentials that combat damage and keep your hair healthy and thriving. 
Start shopping today if you're ready to upgrade your hair care routine and say goodbye to damage for good.