How to Get Rid of Product Buildup on Hair
May 27, 2022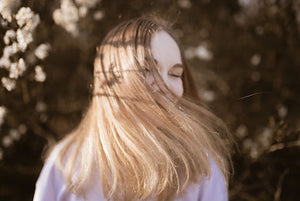 Product buildup is exactly what it sounds like: buildup caused by products you use on your hair. You might not be able to notice the buildup right away. That's because it slowly accumulates over time. 
It's typically a combination of natural and added products that's gathering on your scalp. So that means it's normal and doesn't only come from the shampoo and conditioner you're using. However, It's not fun to live with regularly. 
If product buildup is weighing you down, it's time to cleanse your scalp and revive your hair. So you can look your best and feel your best, too.  
How to tell if you have product buildup 
Does your scalp feel itchy? Or does your hair feel dry, but your scalp is always greasy? This is a sign that your scalp may be suffering from product buildup.
This can be very noticeable to some individuals. You may be able to see pieces of flakes and dead skin cells on your scalp. It has a consistency that is similar to dandruff. 
Some may feel like they have a film over their hair, which takes away from the usual shine of your lovely locks. 
Here are some other signs:
Dull and dry hair
If your hair is feeling abnormally dry and dull: it could mean you have some product buildup forming in your hair shaft and the scalp. Typically, you'd be able to feel a noticeable difference in your hair when you run your fingers through it.
Your hair won't hold a curl
No matter how hard you try to style your hair, your hair won't cooperate. Product buildup prevents your hair from retaining moisture. This means it can't get the hydration it needs to style it with tools.
Limp and lifeless locks
Are you feeling bored with your hair? Maybe, you feel like it never looks the way it used to or wants it to. It could be a sign there is product buildup happening, and your hair needs a cleanse. 
Itchy scalp 
Scalp build-up occurs when sebum culminates with your hair products, dirt, and dust. The buildup can make your scalps itchy, red, or greasy than normal. When left untreated, it can be bothersome and cause physical flakes of dead skin cells to fall off. 
How to get rid of product buildup
Apple Cider Vinegar
Apple cider vinegar is a natural solution that may help relieve some of the symptoms of product buildup and get your hair to a better place. After shampooing your hair, dilute the apple cider vinegar with water and let it sit on your hair for a few minutes. Afterward, rinse it out and see if you can feel a noticeable difference. 
Baking soda
Baking soda is for more than just cooking! It's also a home remedy for product buildup. You can choose to mix a tablespoon of baking soda into your go-to shampoo or apply it directly to your hair after washing with shampoo. Make sure you rinse thoroughly. 
Scalp Brush
These are great tools that will help evenly distribute shampoo to every part of the scalp for a deeper cleanse. When used regularly, it can also get rid of product build-up, dandruff, and dirt. 
Clarifying Hair Mask
We'll let you in on the secret to combating unwanted product buildup. Our Hair Purifier is a vinegar cleansing mask that will gently cleanse the scalp and replenish your hair with essential moisture. 
It features an exclusive Prisma Plus Enhancing Complex that helps boost shine while natural fruit vinegar. The added vinegar will help gently clarify to make hair color appear more vibrant. After just one use, you'll feel refreshed, revived, and have hair that shines. 
Buy our Hair Purifier: Vinegar Cleansing Mask on Amazon!
It's more normal than you think and even easier to treat when you have the right products. If you're ready to improve your hair care routine and look for better options for your hair, we encourage you to shop our full collection of hair care products to find one that works for you.