How to Freshen up Hair After a Workout
July 08, 2022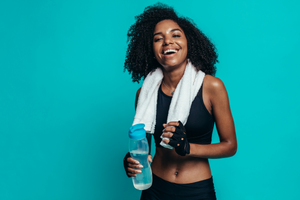 Obsessed with going to the gym but not obsessed with how your hair feels afterward? We get it. You wake up early, head to the gym, and only have an hour or so left before you have to go to work. It can be a challenge, especially if you have a strict hair washing schedule you want to stick to. 
Before you pass on the gym or cave in and wash your hair, there are ways you can adjust your hair care routine to refresh your hair without washing it every day. 
Here's how you can do it:
Have a go-to dry shampoo
You should always have a trusted dry shampoo ready to use, even if you aren't working out! Dry shampoo is great for freshening up your hair between washes and can give you the confidence you need, even after a gym sesh. 
Our Highly Coveted weightless dry shampoo absorbs excess oil and impurities while adding volume, leaving your hair feeling refreshed with no washing necessary. 
For the best results, use your dry shampoo before you go to the gym! That way the dry shampoo can work to remove excess oils while you sweat.
Buy Highly Coveted: Dry Shampoo on Amazon!
Play with ponytails 
There are ways to glam up your gym pony into a ponytail you can flaunt with confidence. 
Make sure you have extra elastics and accessories, so you can dress up your ponytail before you start the day. You can play with fun ponytails or just try to tame your high or low pony with some dry shampoo. 
Try out a serum
Everyone's hair reacts differently. If you struggle with frizz and flyaways after taking your hair out of a ponytail, you'll want to try using a serum to get fresh-looking and feeling hair. 
Serums are great for taming the mane and leaving you with salon-quality hair, even after you just left the gym. 
Next time you head to the gym, throw our Well Behaved Anti Frizz Serum into your gym bag. This formula smooths the cuticle and combats unwanted frizz caused by excessive oil, leaving you with soft and silky hair, even after a great gym sesh.
Buy our Well Behaved Anti-Frizz Serum on Amazon! 
Have a detangler on-hand
If you plan on showering after the gym, you'll want to have a detangler in the shower. With the mix of bacteria and sweat, your hair might not play nice in the shower. 
Tangles can cause unwanted damage and leave your hair not looking or feeling its best. With a detangler, you can get to the root of the problem before it becomes one. 
Our Virgin State Repair Conditioner is an intensive conditioner that helps detangle and smooth distressed hair. The fortifying formula smooths the hair cuticle while hydrating dry, damaged hair and restoring shine, removing all the excess oil and leaving you with impeccable shine. 
Buy our Virgin State Intensive Hair Conditioner on Amazon!
Play with the texture 
If all else fails, embrace your natural hair texture! This is a great option for anyone with naturally wavy and curly hair. 
After you hit the gym, you can complete your look in the locker room if you have The Great Inflate Styling Foam on hand. This air-whipped foam provides flexible hold and unreal body. All you need to do is add it to your hair and style accordingly. 
Buy The Great Inflate on Amazon!
Try out braids 
Hitting the gym with your hair in a braid is a great way to add more texture to your hair. After your gym sesh, wait until your hair completely dries. Then, take it out of the braid, and you'll hopefully have a head full of loose, gorgeous curls! We recommend adding in some products to achieve a more defined curl. 
Discover the Orlando Pita Play difference
With these tips, you can have the best of both worlds: A perfect haircare and gym routine. What more could you ask for? Everyone's hair is different, so you may need to try out a few techniques until you find what works for you. 
At Orlando Pita Play, we have a wide range of hair care products designed to help freshen up your hair, even after a morning at the gym. Shop our collection today to find one that's right for your hair!