How to Deal With Postpartum Hair Loss
February 17, 2023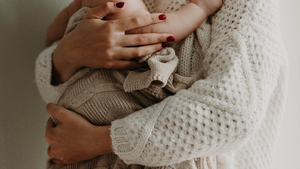 If you're a new mamma, congrats! This is a life-changing step in your life. While getting used to the new lifestyle and learning what it means to be a mom, you may be worried about postpartum hair loss. Don't worry - postpartum hair loss is much more common than you think. It's expected that anywhere from 40-50% of women experience it after childbirth. This symptom can last anywhere from 3-6 months, and your hair may not return to normal until a year after giving birth. 
Before you start to panic: It's more common than you might think, and the pros far outweigh the cons (You're a new mama!)
We're here to show you tips for revising your hair care routine to combat signs of postpartum hair loss. 
Here's everything you need to know:
Can you actually prevent postpartum hair loss? 
Unfortunately, this hair loss is a normal part of pregnancy that many women experience after childbirth. Even though it can negatively impact your confidence and self-esteem, it's important to remember that it's only temporary. 
Postpartum hair loss can affect the look and feel of your hair for up to 6 months after childbirth, but your hair should return to its normal growth pattern shortly after. 
Tips for combating signs of postpartum hair loss
1. Add more volume
Volume is your new best friend. Since your hair may not have the same life it once had, you'll want to switch to volumizing products to add some oomph back into your hair. Thankfully, there are shampoos, hair sprays, and texture sprays expertly formulated to give your hair more body and help you feel more confident even if your hair is thinner than it once was. 
Our Body Breakthrough is a volume-boosting hairspray formulated to help you increase volume, fullness, and shine. This formula contains naturally-derived proteins and polymers to help promote fuller, healthy-looking hair while giving thin, dry hair the extra love it needs to look its best. 
2. Switch to a messy bun
If you're obsessed with tight ponytails, slick back buns, or tight top knots: we have some bad news for you. These hairstyles may be doing more harm than good. Instead, you'll want to embrace the messy bun. This style doesn't pull at your hair as much, which will help you maintain the integrity of your hair and prevent more thinning from happening. 
3. Use a heat protectant
The last thing you want to do is cause more damage to your lovely locks. With a heat protectant spray, you can maintain the integrity of your hair and still style it however you want.
Our 10-in-1 thermal heat protectant, Atmos-Shield, provides an invisible weightless barrier to help fight damage caused by heat, UV rays, humidity, pollution, and free radicals. When you use a heat protectant before styling, it can help prevent pesky split ends and lock in moisture for touchable, smoother-looking hair.
4. Revisit your diet 
If you're noticing more hair than usual is falling out, you'll want to rethink your postpartum diet. You may need to add more hair-loving vitamins and nutrients into your diet, like biotin, zinc, iron, or vitamin C. 
5. Switch out your shampoos
Don't forget: Volume is your new best friend! The shampoos and conditioners you used before childbirth may not benefit you the same way a volumizing shampoo will. With these products, you can maintain the fullness of your hair and feel more confident when you style it.
We recommend our Foam Full volumizing shampoo. This formula provides enhanced lift and bounces for manageable, soft-to-the-touch hair after every wash. So you can confidently take on the day with an extra volume boost.
6. Try a protein treatment 
Consider incorporating a protein treatment into your routine if your hair is thinning or doesn't feel as strong as it once did. These products are formulated with keratin and other hair-loving ingredients that can help strengthen the individual hair follicle and breathe life back into damaged hair.
Our Former Glory Protein Treatment Spray is expertly formulated to help restore damaged hair and improve the visual appeal of your hair. It features a potent blend of proteins and amino acids to breathe life into dry, damaged hair and revive hair back to optimal visual health.
Combat postpartum hair loss with Orlando Pita Play
We know it's not easy to watch your hair fall out in the shower or experience excessive hair loss. At Orlando Pita Play, we want to help you regain your confidence with hair care essentials formulated with nutrients and strengthening agents.
Ready to upgrade your haircare routine? Start shopping today.