How To Choose The Perfect Hairstyle For Your Face Shape
November 25, 2022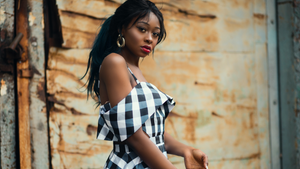 Have you ever looked up a tutorial for a hairstyle, got it cut the next day, and realized it didn't look nearly as good on you as it did on the person in the tutorial? This could be because of your face shape. If you didn't know, your face shape is a big indicator of what may or may not look good on you. We know all this can get confusing. Especially if you aren't 100% sure what your face shape is! 
Don't worry, we're here to walk you through everything you need to know to help you find the most flattering hairstyles. 
Let's take a closer look at how you can find the perfect hairstyles to highlight your features. 
Find Your Face Shape
There are five different face shapes. These include long, round, oval, circle, heart-shaped, and square. Many people can figure out what type of face shape they have simply by looking up a diaphragm online and looking in the mirror. However, you may feel like you fall between two different shapes (Which is also completely normal!)
Focus on your Features 
Before you grab a pair of scissors and start cutting your hair, you'll want to think about your favorite elements of your face shape. Every face shape has different features that can be flattered with the right haircut or style that can be highlighted with a specific hairstyle or haircut.
Heart-Shaped Face
Your eyes and cheekbones are the two features you want to focus on. Consider curtain bangs and adding some volume with extra layers. 
To keep your layers and bangs tamed and to eliminate the appearance of split ends, try our Strong Bond. It's a split-end sealant formulated with an Exclusive Shielding Complex for a smooth, refined look.
Long Face
If you have a longer face, you may feel like long hairstyles tend to exaggerate the length of your face. It's always best to go with a shorter style instead. Consider a pixie or a bob with layers. 
For a sleek, short hairstyle look, use our Magnifying Glass. This intensive serum provides your hair with a protective layer to help smooth frizz, add shine, and rescue hair, for a sleek and chic finished look.
Oval Face
If you have an oval-shaped face, consider yourself lucky. No matter how you style or cut your hair, most hairstyles flatter your features. These are the most versatile face shapes. This means you'll want to consider your unique hair texture when looking for hair shapes. If you have ultra-fine hair, your hair won't look the same as someone with thick hair, and vice versa. 
To help you maintain your hairstyles and look your absolute best, try our Highly Coveted. It's our go-to dry shampoo formulated with an invisible, innovative formula perfect for absorbing excess oil and adding extra volume. 
Round Face
A round face can benefit from shorter hairstyles. You'll want to consider something that adds more emphasis to your cheekbones and elongates your face more. Pro tip: Volume is your best friend!
To add some extra volume to your hairstyles, play with our Body Breakthrough. This is a volume-boosting hairspray with lightweight plumping technology. Once you've styled your hair, spray for increased volume, fullness, and shine!
Square Face
Square faces tend to have a more angular jaw shape. Play with texture to To keep your features balanced and to make your jaw look less chiseled. Longer hairstyles and longer bang looks that fall below your jaw flatter your features the most.
For some added texture, consider our Max Capacity hairspray. This is a hybrid hairspray with the same benefits as a dry shampoo. Once you're ready to take on the day, give your hairstyle a few sprays for enhanced lift and texture.
Discover the Benefits of Orlando Pita Play
There are no right or wrong rules for hairstyles. If you look good and you feel good, rock it! You can do whatever you want with your hair. That's the beauty of it! 
At Orlando Pita Play, we specialize in formulating products to help you achieve your hair goals and flaunt your favorite hairstyles everywhere you go. 
Start shopping our collection of high-quality solutions today to get started.