How to Choose a Personalized Hair Care Routine
March 18, 2022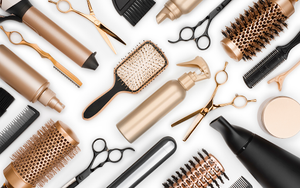 Everyone's hair is different. That's why every hair care routine should be different, too! 
Hair isn't just straight, wavy, and curly. It can be dry at the ends, oily on the scalp, or chemically treated to be a different color. At the end of the day: everyone's hair is beautiful and special in its own way and deserves to have a unique hair care routine to match. 
We're going to walk you through everything you need to know to build a personalized hair care routine to work for you. 
Personalizing Your Hair Care Routine By Hair Textures
Straight Hair
If you have straight hair, your hair is typically straight from the root to the bottom. Of course, not all straight hair is the same. It can be thick, coarse, fine, or thin. However, it typically has the same shape to it. 
This hair type isn't always the easiest to style. You may notice that it struggles to hold a curl or wave after you style it. Usually, the only way to get straight hair to cooperate is by applying heat with a curling iron or a blow dryer, which can cause unwanted heat damage.
Don't worry straight-haired beauties: this is a problem that every hair type learns to deal with! However, you'll need to be extra careful so you can maintain the gorgeous look of your natural hair type. 
To do this, always make sure you use a heat protectant like our Atmos-Shield to ensure you maintain the sleek, straight look and avoid damage like split or dry ends. 
Wavy Hair 
Wavy hair is a happy medium between straight and curly hair. For the most part, your hair is pretty versatile, but you may have a hard time maintaining a curl or getting a voluminous look on your whole head. 
To mellow out the curls strains and give the wavy ones that lack gusto more life, you'll want to use a hydrating shampoo like our Argan Oil Shampoo and Conditioner. The hydrating properties will work to add life back into your waves and leave you with a salon-quality shine!
Buy Argan Oil Shampoo on Amazon!
Struggle with frizz or flyaways? You aren't alone. You can try our High Spirited: Leave-in Conditioner to tame the frizz and get the moisture you need! Your hair will thank us later. 
Buy High Spirited: Leave-in Conditioner on Amazon!
Curly Hair
Whether you have a head full of gorgeous coils or curls, you'll need to be able to tame the mane! For starters, you'll need a trusted detangler to fight off the tangles after wash day or some fun at the beach. (trust us, you'll thank us later!)
If you struggle with frizz, you have a few options. You can try brushing your hair in the shower rather than after, so you don't cause any unwanted breakage. 
Another great option is to use our Silk Slip: Smoothing Hair Conditioner after your hair dries. This conditioner will combat the frizziness and fortify the hair for a more polished, put-together finish. Plus: the conditioner will leave you with a beautiful shine! So your curls can thrive all day long. 
Buy Silk Slip: Smoothing Hair Conditioner on Amazon!
How To Personalize Your Hair Care By Hair Types
Oily Hair
Oily hair isn't always fun. The good thing is there are products on the market that can combat the natural oils on your scalp and give your hair a healthy shine. 
You'll want to make sure you have a go-to dry shampoo like our Highly Coveted to make sure you absorb excess oils between wash days. It's a lifesaver that anyone who struggles with oily hairs needs by their side. 
Dry Hair 
One of the most common hair types is dry hair. Dry hair is caused by an underproduction of oils coming from our scale. (which is completely normal!) If your hair is dry, damaged, or feels like it never wants to be styled, you may not be using products that work for the dryness. 
To get your hair back to where you want it to be, you should try our Strong Bond: Split End Sealant. Not only will this product work to treat the damage caused by heat or styling, but it will also add life back to your hair, leaving you with a refined finish and enhanced shine. 
Buy Strong Bond: Split End Sealant on Amazon!
Color-Treated Hair
After you dye your hair, it may require extra love to maintain the color and keep the pigment-rich, shiny, and vibrant. 
To do this, you'll need some color care products like our Ampli-Tint to help enhance the tone and keep your hair looking beautiful as ever. No matter what color you dye your hair, this mask will help boost the color and correct the tone. 
Personalizing your hair care routine doesn't need to be hard. It just takes some time to find a product that works for your individual hair needs. 
We hope this helps you personalize your routine, find products that work for you, and guide you towards healthier and happier hair days.