How to Care for Long Hair
July 29, 2022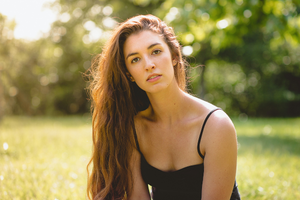 Having long, luscious locks you can flaunt is fun! However, it's not always easy. Long hair deserves extra care to keep it looking and feeling its best at the longer lengths. 
If you're having trouble growing your hair past a certain point or just want to keep your long hair strong and happy, you've come to the right place!
We put together a list of our favorite long hair care tips, so you can revise your hair care routine and take the right preventative steps to help you achieve your goals. 
Here's what you can do:
Get frequent trims
It may feel counterintuitive to get regular trims when you want to grow your hair out. However, regularly trimming your hair is a great way to encourage more hair growth and eliminate split ends. 
The appearance of breakage can take away from the natural beauty of your long hair. It can also contribute to unwanted tangling and thinner ends, which can also cause more breakage. We recommend getting your hair trimmed every six to eight weeks for the best results. 
Choose the right hair brush
If you want to maintain long hair, you'll need the right hair brush. Consider investing in a wet brush or a boar bristle brush. Boar brushes are considered natural fiber brushes. 
These help smooth the hair shaft, minimize friction, and can cause less damage. A wet brush causes less stress on the hair and can fight off unwanted tangles. 
Avoid towel drying
After a long, hot shower, it's easy to want to throw your hair up into a towel and continue getting ready in the morning. Unfortunately, towel drying can cause unwanted breakage. 
The rubbing back and forth and harshness can cause tangles and eventually lead to your hair breaking off. We recommend switching to air drying for the best, healthiest results.
Go easy while blow drying
Blow drying is another common cause of hair damage. However, you can ease the damage with a heat protectant spray. These sprays act as a barrier to help prevent heat damage and keep your hair healthy and happy. 
Our Atmos-Shield is a 10-in-1 thermal heat protection spray that is your new best friend when using a blow dryer. The formula contains Multi-Phasic Shielding Complex®, which helps protect hair, seal split ends, and lock in moisture for touchable, softer-looking hair.
Buy Atmos-Shield Hair Protectant on Amazon!
Invest in high-quality shampoo and conditioner
You'll want to trade in that drug store shampoo for something formulated with beneficial ingredients. Drug store formulas don't contain the ingredient your long hair needs to thrive. They can also cause unwanted product build-up, preventing your cuticles from taking in moisture, and leaving you with dry ends. 
If you aren't sure which shampoo and conditioner are right for you, we recommend shopping through our shampoo and conditioner collection to find a formula that plays well with your unique hair type. Our products are formulated to help you see the results you've been craving and get to the root of your specific hair problems. 
Keep your hair well-conditioned 
Whether you already have long hair or want to grow it out: you'll want to do everything to keep those ends conditioned. Hair masks or a hydrating conditioner. 
These are great products you can easily add to your hair care routine. They help with moisture retention and leave your ends with all the hydration they need to get you through the day.
We recommend using our Time Capsule Treatment Mask at least once a week. This formula results in dry and brittle strands to leave your hair always looking its best. The formula contains a blend of natural oils and vital nutrients that help nourish the hair and leave an incredible shine.
If you want an ultra-hydrating conditioner, try our Virgin State. This intensive repair conditioner helps detangle and smooth distressed hair. The fortifying formula contains silk and wheat proteins that help resist the effects of thermal damage and excessive styling. 
Buy our Virgin State on Amazon!
Enhance your hair care routine with Orlando Pita Play
If you want long hair, you'll need to put in the work. The best way to do this is by revamping your hair care routine with products that can help you see the results you need to grow your hair to a length you love.
It won't be easy, but we're always here to help! Shop our collection of hair care products today to get started.