How to Achieve Perfect Air Dried Hair
September 30, 2022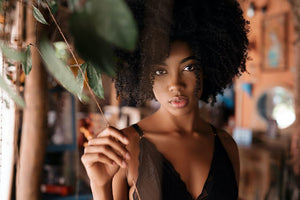 Whether you have a gorgeous defined curl pattern or beachy waves that you want to maintain: you've come to the right place. We know it can be a challenge to perfect your hair care routine to meet the needs of your curls. 
Your curls need consistent and high-quality ingredients to look and feel their best. If you feel like you've just about tried every product on the market, we feel your pain and want to help. 
It's time to re-adjust your hair care routine to get the most out of your gorgeous natural curls. 
Let's get into it. 
Why is curly hair so different from the rest?
Let's talk about the science behind curly hair and how it's different from straight hair types. For starters, curly hair has evenly distributed sulfur proteins. 
This means it's easier for your cuticle to stretch and bend into a curl pattern. Because of this flexibility, curly hair is considered more fragile and doesn't maintain moisture or nutrients as well as straight hair. 
That means, products or styling routines that work for straight hair, don't always have the same results with curly hair. Instead, you'll need to be more mindful of your routine, the products, and the ingredients you use daily. 
How to upgrade your curly hair routine
Wash less 
Washing is an essential part of any hair care routine. However, if you overdo it, it can be counterproductive. Too much washing can leave your ends brittle and dry, and who wants that? 
If you have a head full of beautiful curls, we recommend washing once a week. It may take some time to reach this, so don't feel discouraged! Once you get on a once-a-week cadence, you don't need to worry about putting extra heat on your hair with styling tools.
Switch to air drying 
If you're someone who's obsessed with your air dryer or loves wrapping your head in a towel after the shower, we have some bad news. You could disrupt your curl pattern and cause your hairstyles to fall flat. Instead, switch to air drying! It may take longer, but it will help your hair in the long run. 
Find a go-to conditioner 
Since you're going to go easy on the hair washing, you'll want to ensure you're using a nutrient-rich conditioner when you do wash your hair. A good conditioner will help you create more defined curls and waves and make sure curls are more manageable. 
A great option is switching to a leave-in conditioner like our High Spirited Weightless Leave-In Conditioner. This leave-in essential provides weightless moisture, so you don't need to worry about it ever weighing down your elegant curls. It has a nourishing formula that will help seal the shine and provide an enhanced lift and extra bounce. 
This leave-in conditioner can take the place of your in-shower conditioner or be used as an additional step if you have thicker hair that needs extra love. 
Shop our High Spirited Weightless Leave In Conditioner on Amazon!
Try out a hair mask
Hair masks provide intense moisture and contain nourishing ingredients. This can be particularly great for girls with curly hair who are always combating frizz, dullness, or unwanted dryness. Incorporating a hair mask into your routine once or twice a week can make your hair look healthier and silkier.
We recommend our Satin Pillow Overnight Hair Mask. It's jam-packed with hydrating nutrients, like avocado oil, shea butter, and coconut oil. 
It's formulated with an exclusive multi-phasic shielding complex and is a great add-in for an overnight regimen or deep conditioning treatment. 
Shop our Satin Pillow Overnight Hair Mask on Amazon!
Retire your hairbrush
We have some bad news: Your hairbrush may be causing some serious damage to your lovely locks. 
When it comes to brushing your hair, the brush can cause too much friction with your curls. Which can lead to unwanted frizz, damage, and curls or waves that look… blah. 
Instead, try to detangle your curls as much as you can with your fingers. Plus, if you use a nutrient-rich conditioner, you shouldn't have too much trouble trying to detangle your hair.
Try out styling products 
Styling products are a great tool that helps define your curls and gives you that soft, bouncy look you desire. To get started, we recommend The Gloss Up Hair Cream. 
It's a weightless polishing cream that helps you lock in moisture, restore shine, and give your hair that extra bounce you need to show off your natural curls. 
After you apply it to your hair, you can play with a curl enhancer or a curl-defining gel to finish the look. 
Shop our The Gloss Up Hair Cream on Amazon!
Get more from your curls with Orlando Pita Play
The truth is, curly hair needs extra love! If you want to get more out of your unique curl pattern, you'll need to put the effort in and switch up your routine to meet your curl's needs. 
At Orlando Pita Play, we want to help your curled hair get where you want it to be. 
Shop our curated collection
of high-end hair care products today!