How to Achieve Frizz-Free Hair
June 17, 2022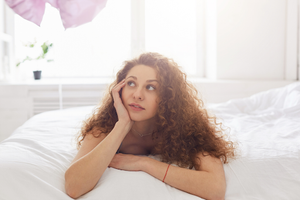 No one likes dealing with frizz. Several factors could cause frizz and flyaways, and not all of them are easily preventable. Whether it's dry hair, environmental factors, or your favorite hot tools you use every day. 
Frizz happens, and there is no magical trick for reducing the amount of frizz you have. You could have the healthiest hair with minimal damage and still deal with unwanted frizz!
The good news is: there are easy ways to enhance your hair care routine, so you can de-frizz your life and get the hair of your dreams!
Here's everything you need to know:
The best hair care ingredients for frizzy hair
Coconut oil
You've probably noticed that coconut oil is in a few of your skincare and beauty products. This ingredient is great for individuals that live in humid climates because it stops the hair from absorbing water. 
Coconut oil also adds shine to your hair and smooths out dry, damaged hair. 
Avocado oil
Avocado oil is jam-packed with healthy hair ingredients, including fatty acids and antioxidants. The nourishing properties make it great for combating dry, frizzy hair. 
Grapeseed oil
This oil is often used as a leave-in treatment for reducing frizz and dryness. It has a lighter consistency than olive oil or coconut oil, so you don't need to worry about it weighing your hair down.
Jojoba oil
Jojoba oil is an ultra-hydrating ingredient you'll see in hair care and skin care. It's a great ingredient that helps revive and deep condition the driest of hair.
Tips for combating frizz
Invest in a good hair spray
Hairspray is a woman's best friend. This product is a great tool that can help you lock in your hairstyles and maintain a polished look all day long. 
You'll want to look for high-quality hair sprays with an all-day or long-lasting hold, like our Climate Change. This is a humidity-blocking hair spray that works as a shield over the hair and provides a buildable hold. 
It contains grapeseed oil to help reduce frizz and leave your hair with a soft, touchable finish.
Buy Climate Change Humidity Blocking Hair Spray on Amazon!
Try to avoid touching your hair
This is easier said than done, but not touching your hair throughout the day can be a great tactic for avoiding the frizz. 
Your hands can remove some of the natural oils your hair needs, which can cause unwanted dryness and frizz.
Try out a serum
Serums are a must-have for anyone who has a mane that needs to be tamed! These are easy-to-use solutions that help you smooth out the frizz and leave your hair with a sleek and shiny look. 
Our Magnifying Glass provides a protective layer to help contain frizz and add extra shine to your hair. It contains coconut oil and avocado oil, two must-have ingredients for anyone that needs help combating frizz. 
Buy Magnifying Glass: Intensive Hair Serum on Amazon!
Restore your pH balance
Product build-up can cause your hair to act up in the worst ways. We all tend to go a little too heavy on the products to achieve the perfect hairstyle. However, this can be counterproductive and have a long-lasting impact when left untreated.
If you feel like you're constantly fighting off flyaways, frizz, or limp hair, you could have some product build-up on your scalp. The best way to combat the build-up is with a purifying mask. 
These hair masks contain ingredients that help restore balance and provide your hair with a natural shine. Our Hair Purifier gently cleanses the hair and scalp while replenishing essential moisture. 
After just one use, you'll see a noticeable difference. We recommend using a hair mask like this one at least once a week for the best results.
Buy Hair Purifier Vinegar Cleansing Mask on Amazon!
Opt for a cold shower
Showering at a lower temperature can protect your hair and prevent overdrying. Overdrying is a common cause of frizzy hair and can be caused by hot showers. With a cold shower, you can seal your hair's cuticles and give your hair a refreshing rinse. At the end of your shower, we recommend lowering the temps and doing a cold water rinse for the best results. 
Get frizz-free hair from Orlando Pita Play
If you're constantly dealing with frizzy hair, it's time to revamp your hair care products and say goodbye to flyaways. At Orlando Pita Play, we have a wide range of hair care solutions formulated to meet your needs. Shop our wide selection to find a product that's right for you today.