Haircare for Chemically Treated Hair: Orlando Pita Play's Products for Nourishment and Protection
July 28, 2023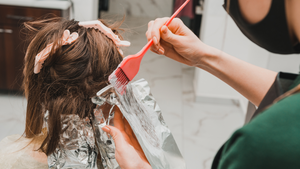 Chemically treated hair requires special care to maintain its health, shine, and vitality. Whether you've had a relaxing treatment, color-treated your locks, or frequently use heat styling tools, it's crucial to nourish and protect your tresses. In this blog post, we'll explore Orlando Pita Play's exceptional line of haircare products specifically designed to address the unique needs of chemically treated hair. From rejuvenating masks to protective sprays, these products offer the perfect solution for maintaining gorgeous and healthy locks.
Revitalizing Shampoo: Cleanse without Stripping
Chemically treated hair needs a gentle yet effective cleansing routine. Orlando Pita Play's Pearl Foam Smoothing Shampoo is a nourishing formulation that gently removes impurities and buildup without stripping the hair of its natural oils. It contains a blend of botanical extracts and proteins that help repair and strengthen damaged strands, leaving your hair feeling soft, smooth, and manageable.
Repairing Conditioner: Restore and Hydrate
After shampooing, it's crucial to replenish moisture and repair any damage caused by chemical treatments. The Silk Slip Smoothing Conditioner from Orlando Pita Play is enriched with vitamins and essential oils to nourish and hydrate chemically treated hair. This conditioner detangles and softens the hair while promoting resilience and shine. Apply it from mid-length to the ends and leave it on for a few minutes before rinsing for best results.
Restore and Protect Hair Mask: Deep Nourishment
Give your chemically treated hair a luxurious treatment with Orlando Pita Play's Overnight Hair Mask. This intensive mask is infused with natural ingredients to deeply nourish and restore the hair's vitality. It helps repair damage, seals in moisture, and leaves your locks looking glossy and rejuvenated. Apply the mask once a week, comb it through your hair, and leave it on overnight.
PlaySafe Heat Protectant Spray: Shield from Heat Damage
Heat styling tools are a common culprit behind hair damage. Orlando Pita Play's Atmos-Shield Heat Protectant Spray acts as a barrier between your hair and the heat, protecting it from thermal damage. This lightweight spray not only shields your hair but also adds shine and reduces frizz. Apply it generously before using heat styling tools to ensure your chemically treated hair stays healthy and protected.
Gloss Up Weightless Polishing Cream: Enhance Shine
Chemically treated hair can sometimes appear dull and lackluster. The Gloss Up Weightless Polishing Cream from Orlando Pita Play is formulated to enhance shine and provide a polished finish to your locks. This lightweight cream contains argan oil and keratin to smooth frizz, tame flyaways, and give your hair a radiant, glossy look. Apply a small amount to damp or dry hair, focusing on the ends, for a lustrous and touchable mane.
Conclusion
Chemically treated hair requires special care and attention to maintain its health and beauty. Orlando Pita Play's range of products offers the perfect solutions for nourishing and protecting your locks. Investing in high-quality haircare products tailored to chemically treated hair is essential for keeping your tresses healthy, vibrant, and resilient. With Orlando Pita Play's range of products, you can embrace your chemically treated hair with confidence, knowing that you have the tools to nourish and protect it.