8 Hair Trends for Spring 2022
March 25, 2022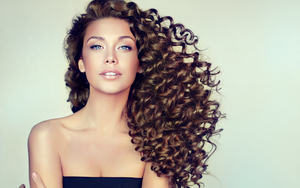 It's time to look at some springtime hair trends that are taking center stage this season. Whether you're looking to upgrade your go-to casual hairdo or looking for a more elevated look for date nights or occasions, we have you covered. 
Let's take a look at a few of our favorite emerging springtime trends and how you can use our products to complete the look. 
Pin Straight 
It's time to retire the wand and break out the straightener because straight hair is back! We've been noticing that on and off the runway, the sleek and straightened is coming back in style. 
Before you put too much heat on your hair with your flat iron, make sure you grab a heat protectant like Atmos-Shield! This way you can achieve a smoother-looking style with less damage. 
Cute Clips Of All Kinds
We saw the 90s and 2000s style hair clips start to make a comeback during summer 2021. Now that winter is in the past, this bright and flirty look is here again. 
From butterfly clips to chunky claw clips, we're sure to see more clip styles and looks start to emerge. Not only is it a fun look that is easy to style but when you start to play with colored clips, you'll get a soft spring vibe that's perfect for the warmer weather.
Styled Baby Hairs
If you've had your eye on the runway or popular shows like Euphoria, you'll notice that styled baby hairs are growing in popularity. 
To achieve the look, follow the direction that your baby hairs grow and style them however you please. We love the flirty and fun curl and how they add a daring flair to any of your makeup looks. You'll want to use a hair gel to lock down the style and keep an all-day hold. 
Sleek Buns
The messy bun is a Sunday staple that will never go out of style. However, it's time to elevate your go-to bun looks and give it a chic, sleek look. The slicked-back bun style is bold and daring. 
It can easily upgrade your look and help you achieve a more modern feel. All you need is a bit of patience, some hair gel, and the perfect outfit. Once you're down, try our Climate Change: Humidity Blocking Hair Spray to keep it locked in place.
Buy Climate Change: Humidity Blocking Hair Spray on Amazon!
Middle Parts
Who knows when the side part will start to make a comeback again… all we know right now is that the middle part is dominating runways and Gen Z's is obsessed. 
The best part is this look goes perfectly with the pin-straight hair look everyone is loving. If you can pull it off, try playing with a few different middle part styles to match your springtime attire. 
Going All Natural 
We love that we're noticing natural hair textures as an emerging trend for spring 2022. Not only is it less damaging on your hair, but it's encouraging women to embrace their natural beauty! 
If you have naturally curly hair, you might want to give the Curly Hair Method a try and use our Argan Oil Shampoo to help reduce frizziness and give you a smoother overall look. 
Buy Argan Oil Shampoo on Amazon!
Dainty Braids 
Another 90s-inspired look that is making a return during spring 2022 are dainty braids. Adding small braids to your everyday hairstyle can be an easy way to add a playful flair to just about any look. 
Whether it be a small detail in your bun or you're adding braids to your wavy hair, we say try it all this spring! To give your hair the soft and luscious look it needs to complement the braids, try our Satin Pillow: Overnight Hair Mask.
Buy Satin Pillow: Overnight Hair Mask on Amazon!
Bold Hair Scarfs
The hair scarf is a popular hairstyle from the 60s that is poised to be a trend throughout spring and summer this year. This look can be worn in many different ways and be an easy way to add a pop of color. 
You can choose to use it to tie your ponytail or do an all overlook that ties behind your ears. Add some braids in the mix or use it in your braid to take the look to the next level. 
We hope this list inspires you to try something new with your hair this spring! No matter which trend you decide to jump on during this season, make sure to check out our product collections to find one that is suited for your hair needs. 
We can't wait to see how great you look!