7 Trending Hairstyles to Try in 2023
January 06, 2023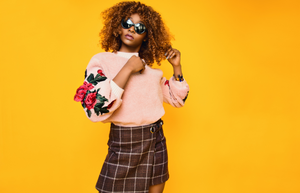 Tired of your same old hairstyle? Ready to head to the salon or grab a pair of shears to try something new? 2023 is your year!
Every year, new hair trends take the beauty industry by storm and give us opportunities to flaunt new styles, refresh our looks, and have some fun with our hair. 
If you're ready to try something new in the new year, here are seven hairstyle trends we have on our radar:
Feathered Layers 
Layers, layers, layers! The feathered look from the 90s is making a comeback and we aren't mad about it! If you want to achieve a voluminous look with extra texture and volume, this is what your hair has been missing.
Feathered layers provide an abundance of dimension to your hair. It's a great go-to hairstyle for individuals who have naturally straight hair and want to add more texture to their everyday looks. 
To keep your layers looking their best, don't forget a hairspray like our Max Capacity Hybrid Hairspray. This is essentially a hairspray and dry-shampoo combo. The formula is designed to provide all the benefits of dry shampoo, while providing a soft, natural hold. 
A Chic Bob
Short hairstyles are back, and they are here to stay! If you're ready to say goodbye to your long, lovely length - consider a chic bob in 2023. Bobs are a flirty style that emphasizes your cheekbones and provides you with an elevated, elegant look. 
Bobs are also a versatile style that you can personalize. Whether you want a blunt or choppy cut - your hairstylist will be able to help you find the perfect length for your features. 
The Wolf Cut
Were you obsessed with the wolf cut in 2022 but too afraid to commit? 2023 is your time to shine! We predict this edgy haircut is here to stay for a few years. If you don't know what a wolf cut is, it's the creative version of a mullet and a shag haircut. It has tons of layers, dimensions, and personality. 
To achieve this look, our High Spirited Leave-In Conditioner will work wonders. This products adds volume to even fine hair types, while providing weightless moisture to hair. The nourishing formula helps seal in shine leaving hair soft, touchable and full of enhanced lift and bounce.
The Pixie Cut
Go short or go home! A pixie haircut is daring, bold, and full of fun. It's really short compared to most hairstyles but is jam-packed with personality. The pixie look is a timeless style. It's an excellent choice for any age and hair type, and you can choose to go as short as you please! 
If you're ready to commit to the pixie cut, talk to your hairstyle and ensure you have the face shape to rock this look. Typically, round and heart face shapes are the best!
To keep your hair in place, try our The Gloss Up. This weightless polishing cream is designed to be added to your hair after styling to tame flyaways and frizz. It's formulated to help enhance shine and provide your hair with a smooth, sleek look without weighing it down.
Mid-Length Cut
Not ready to commit to a short hairstyle? Don't worry. You aren't alone. With a mid-length cut, you don't need to sacrifice too much length to try short hair. You can still have that volumizing look full of layers and bouncy curls without cutting it above the shoulders.
A Bob Full of Layers
We're sure to see many more bobs, with a ton of layers throughout 2023. The extra layers add dimension to the short hairstyle, making it more modern and wearable. 
This is a great option if you want to try a bob but you're worried the chic and sleek look won't look good because your hair is thick. The extra layers will add movement to the style and give it some texture. 
Curtain Bangs
Do you feel like your current haircut is missing some extra oomph? Maybe, it's time to try on some curtain bangs! Bangs are flirty, fun, and stylish. They have a captivating look that adds an extra dimension to your favorite hairstyle. 
The beauty of curtain bangs is they are longer than traditional bangs and pushed to the sides of your face. So if you aren't fully ready to commit to bangs - these are the ones for you.
To keep your curtain bangs protected while styling, you'll need a hairspray like our Atmos-Shield Heat Protectant Spray. Atmos-Shield is a 10-in-1 thermal heat protection spray that provides an invisible weightless barrier to help combat damage caused by heat, UV rays, humidity, pollution and free radicals . The formula helps protect hair, seal split ends and lock in moisture for touchable, softer and smoother looking hair.
Upgrade Your Haircare Routine With Orlando Pita Play
Ready to take on a new hairstyle in the new year? Don't forget to also stock up on hair care essentials! At Orlando Pita Play, we want to help you achieve that stunning, flawless look you've been craving. With our salon-quality hair care essentials, you can fill your haircare routine with the nutrients your hair needs to thrive and look its best.