7 Tips To Help With Hair Growth
November 18, 2022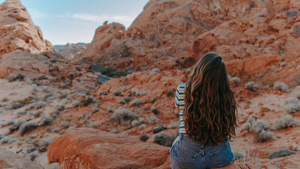 At some point in everyone's life, their main hair goal is to grow long and beautiful. However, this is often easier said than done. Everyone's hair is different and grows at a different pace. Some individuals may feel like their hair doesn't grow, always staying at the same comfortable length. 
Don't worry. We've all been there. 
The reason you aren't seeing your hair growth could be a reflection of your lifestyle choices, hairstyles, or daily routines. To see results, you need to get to the root of the problem if you want your hair to grow to new lengths. 
Not sure where to start? We're here to walk you through 7 tips to help with hair growth. 
Let's take a closer look:
Always Get Your Hair Trimmed
Frequent trims are key to growing your hair long. This helps you eliminate split ends and maintain the integrity of your luscious locks. Once all that breakage is gone, new growth can move in! 
Trust the process and say goodbye to that unwanted breakage!
Lay Off The Styling Tools 
Your favorite straightener, blow dryer, or curling iron may be why you aren't seeing your hair grow to the length you desire. If you're serious about growing your hair, you'll want to limit the amount of heat you apply. You can do this by not styling your hair or simply lowering the temperature on your styling tool (Besides, do you really need it set to 400 degrees every time? Probably not!)
Always Use a Heat Protectant
Whether you're getting ready for an upcoming date night or a special occasion where you want to use your styling tools, never forget the heat protectant! Your heat protectant is your new best friend. This product helps protect you from all outside factors like UV damage, hot water, humidity, or pollution.
Meet our trusted solution: Atmos-Shied. This is our 10-in-1 thermal heat protection spray formulated with exclusive Multi-Phasic Shielding Complex to protect your hair from unwanted damage caused by heat.
Prioritize Hydrating Ingredients
It's easy to get caught up in the routine of washing your hair every day. If you do it too much, you risk stripping your hair of natural oils. Instead of over-shampooing or washing your hair, consider restructuring your hair care routine and incorporating more hydrating ingredients. 
If you need some extra hydration, try our Satin Pillow. This is an overnight hair mask formulated to hydrate, replenish, and improve the visual appeal of your hair. With an extra dose of hydration and nourishing ingredients, you can combat damage, save your hair from split ends, and maintain your mane.
Keep Your Shower Temperature Cool
We're all guilty of taking showers with hot water. However, if you turn this into a habit, you could be causing damage to your lovely locks. Consider turning down the temps and using cooler water on your hair. This will maintain the integrity of the strands and help you grow your hair to new lengths. 
Take Your Vitamins 
If your hair needs some extra help, you'll want to consider your diet, lifestyle choices, and the vitamins you're taking. There are vitamins you can take that will help you grow your hair and improve the overall look and shine. Here's a list to consider:
Vitamins A, C, D, and E

Vitamin B7

Zinc 

Iron 

Omega-3 fatty acids
There are trusted multivitamins out there that combine all of these hair-healthy vitamins. Always look at the ingredient list to ensure it's what you're looking for before incorporating them into your routine. 
Use The Right Hair Products 
The right hair care products make all the difference. If you aren't incorporating high-quality haircare essentials, you risk damaging your hair and stunting its growth. If you're looking for a trusted shampoo and conditioner duo with nourishing ingredients, you can't go wrong with our Argan Oil Glossing Shampoo & Conditioner. 
This is a salon-quality set that works to gently yet effectively cleanses hair and provide a sleek finish. The combination of Moroccan Argan Oil and Soy Protein delivers moisture, enhances your natural shine, and improves the overall manageability of your hair.
Build a Next Level Hair Care Routine with Orlando Pita Play
If you want long and beautiful hair, start restructuring your routine, look for better hair care products, and prioritize your health. Every small change can help you grow your hair to new lengths. 
Ready to build a hair care routine that fits your needs? Start shopping today.