7 Rainy Day Hairstyles to Rock This Winter
December 16, 2022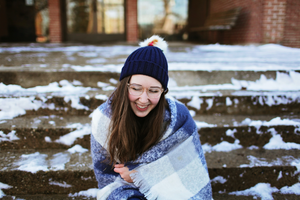 The rainy weather can put a real damper on your favorite hairstyles. The uptick in moisture in the air can lead to rough, frizzy hair that's hard to maintain. It can be easy to give up, throw on a hat, and call it a day. 
However, we're here to let you in on a few easy-to-master hairstyles that will help you look your absolute best, no matter what the weather report says.
It's time to retire your straightener or curling iron for the rainy weather ahead and switch to one of these 7 hairstyles. 
Let's take a closer look:
Braids
Who doesn't love a good ol' fashion braid? Braids are a go-to style that everyone can take advantage of, especially if you have long hair. There are several different ways to style a braid, and all of them have a unique look that's beautiful and elegant. If you want to spice up your braids, consider throwing on a beanie or a hat or trying out a french braid. 
Slickback Bun
If your hair is especially prone to frizz when it's raining, this is the style for you. A slick back bun makes your hair easier to maintain and allows you to keep an elevated look, no matter how bad the weather is. You can confidently go on dates, run errands, or go to work knowing your hair will look its best all day long.
To master the slick back style, you'll want to minimize flyaways and frizz with Well Behaved. This is our go-to anti-frizz cream serum. It's formulated to smooth the cuticle and treats split ends. Before throwing your hair into a slick back bun, run this cream serum from root to end for the best results. 
Half Bun
Section the top of your hair and throw it into a bun. Pull some of the smaller strands of hair out from the sides, and you're ready to take on the day. This is a great hairstyle for individuals with more texture or natural waves. The half-bun style allows you to showcase the beauty of your hair and keeps it manageable when the humidity is high. 
A Low Bun
A low bun is a quick and easy way to keep your hair to a manageable level and still look your absolute best. Once your hair is secured in a bun at the nape of your neck, you can pull out some loose strands. Consider doing two smaller low buns on each side for a more modern approach to this traditional hair-do.
However, if you aren't careful, a low bun looks messier than you want it to when it rains. Spraying your hair with Atmos-Shield can help eliminate the effects of humidity and keep frizz to a minimum. A few sprays before styling will protect hair, seal split ends, and lock in moisture for softer and smoother-looking hair.
Top Knot
Grab a rubber band and tie your hair into a ponytail at the top of your head. Wrap and twist your hair around and then secure the hair with a bobby pin. A top knot is a perfect style that makes your hair easier to manage during the colder weather. 
Braided Bangs 
When it's raining all day, and you have errands to run, sometimes you want to keep your hair out of your face. One of the best ways to do this is by braiding your bangs to the side and securing it with a clip. It's a quick and easy way to prepare for the rainy weather and adds texture to the rest of your hair. 
To get a finished look, try Climate Change. This humidity-blocking hair spray is expertly formulated to combat the extra moisture in the air. The spray provides a weightless, invisible shield and protects your hair so you can confidently rock your hair down with your bangs in braids. 
High Ponytail 
You can't go wrong with a high ponytail. To get the look, all you need to do is tie your hair with a hairband at the top of your hair slightly higher than your traditional ponytail. That's it! You may want to play with a texture spray to add more dimension. 
Get More From Your Hair Care With Orlando Pita Play
At Orlando Pita Play, we want to help you try new hairstyles with confidence. We have a suite of hair care essentials that contain the nutrients your hair needs to look its best, no matter the weather.