7 Festive Hairstyles For Holiday Get-Togethers
November 04, 2022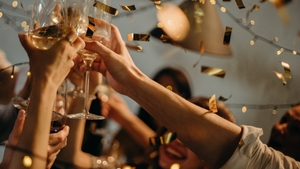 The holidays are upon us! As you prepare your festive outfits and add party invites to your calendar: You may be wondering what you can do differently with your hair! 
If you're tired of the same old hairstyle you always turn to and looking for something more festive: You've come to the right place. We put together a list of seven holiday hairstyles that are easy to recreate for all of your plans this season.
Here are seven festive hairstyles to inspire you:
Soft Curls
Who doesn't love soft, plushy curls? Soft holiday curls are elegant and easy to style. To achieve this look, pick up your favorite wand, curl all of your hair, and then brush out the curls. Consider playing with clips or other accessories for a more festive look. 
Before you turn on your styling tools, ensure you protect your lovely locks with a heat protectant like our Atmos-Shield. Our formula provides a weightless barrier so you can confidently style your hair however you please and maintain integrity.
Festive Hair Ribbons
Add color to your favorite high ponytails, braids, or slick back bun with a holiday-inspired hair ribbon. 
Hair ribbons are a great way to add a festive flair to your holiday get-together looks. Consider red silk or forest green to get in the holiday spirit. If you want a more elegant look, consider pearly white or black. The best part? It's easy. Once you find a bow and pick a hairstyle, you're ready to steal the show.
Flirty French Braids 
French braids are the perfect mix of sleek, chic, and flirty. You can dress it up or down however you please. Consider playing with a half-down, half-up look with an elegant french braid on top. 
Pro Tip: For a more festive look, consider pairing your french braids with a pearl headband!
An Elegant Fishtail
Tired of traditional braids or french braids? Try a fishtail braid. Fishtail braids are playful and aren't as hard to master as you might assume. 
To get the look, divide your hair into two sections. Take portions from the original section and wave the pieces with one another. Once it's complete, you can pull the fishtail pieces apart to add some volume. 
Once your fishtail braid is complete, you'll want to set the style with a weightless hair spray like our Climate Change. This humidity-blocking hair spray will ensure your holiday hairstyle looks absolutely stunning!
A Side Swept Beauty
Getting dressed up for an elegant holiday party? You can't go wrong with a side swept style. Whether you choose the look for your whole hair or your bangs, you can't deny that the style pairs elegantly with the colder weather. 
To perfect your side swept look, you'll want to tame your mane with our Magnifying Glass. This intensive serum is formulated to smooth frizz, add shine, and rescue dry, damaged hair. Before you curl your hair and style it in a side swept look, you'll want to run the serum through damp hair to ensure you have a sleek look to flaunt at the party. 
Bubbly Bubble Braids
Bubble braids are all the rage. They provide more volume and dimension than traditional braids. Plus, they are simple to style. All you need to do is grab a few rubber bands and evenly distribute them throughout your hair. Pull the hair slightly to create the bubble effect, and voila! You're ready to take on Friendsgiving, date night, or your company holiday party.
The Wet Hair Look
Be the most stylish person to walk into the party with the wet hair look. This hairstyle is a chic and sleek look that is easier to achieve than you might think. 
All you need is a lot of hair gel. Apply the gel all the way up to the roots and comb through it with a comb. Set the style with hairspray, and you're good to go. All you'll need is a stunning outfit to match.
Elevate Your Holiday Hairstyles With Orlando Pita Play
At Orlando Pita Play, we have salon-quality essentials formulated to help you perfect your holiday hairstyle and feel confident about your hair at those upcoming holiday get-togethers. All our high-performance products are formulated to target hair concerns to help you achieve beautiful and healthy hair.