6 Wedding Hair Tips Every Bride Should Know
March 17, 2023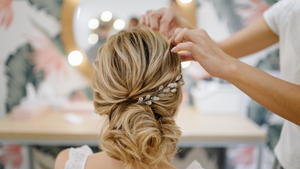 As a bride, one of the most important things to plan for your big day is your wedding hair. Your hairstyle will complement your dress, makeup, and overall theme. Your wedding hairstyle will also feature in your wedding photographs and videos, so it is essential to get it right. With so many options available, it can be overwhelming to choose the perfect wedding hair. In this post, we will list seven wedding hair tips that every bride should know, and we will also show you how Orlando Pita Play products can help.
Know your hair type
Before you decide on a wedding hairstyle, you need to know your hair type. Whether you have curly, straight, thin, or thick hair, your hair type will determine what hairstyles will suit you. If you have curly hair, for example, an updo will hold better than a half-up style. On the other hand, if you have straight hair, a voluminous hairstyle like waves or curls will make your hair appear fuller.
Orlando Pita Play product to try: The Foam Full Volumizing Shampoo is perfect for those with thin or fine hair as it lifts and plumps hair to add volume.
Be open-minded
You may have a particular hairstyle in mind for your wedding day, but be open to trying new things. You never know, you may find a hairstyle that suits you better than the one you originally had in mind. Consider the shape of your face and the style of your dress when choosing a wedding hairstyle.
Orlando Pita Play product to try: The Body Breakthrough Volumizing Hairspray is perfect for creating a variety of wedding hairstyles as it provides hold, lift, and texture.
Keep your hair hydrated
Before your wedding day, make sure your hair is well hydrated. This means using products that keep your hair moisturized and healthy. Dry, brittle hair is difficult to style, and it won't hold a curl or wave well. Start using hair masks and leave-in conditioners a few months before your wedding day to ensure your hair is well hydrated.
Orlando Pita Play product to try: Our Argan Oil is a great option to keep your hair hydrated and healthy. It can be used on damp or dry hair to add shine and nourishment.
Consider your hair accessories
Your wedding hairstyle will not be complete without accessories. Whether it's a tiara, veil, or flower crown, hair accessories can add that extra touch to your wedding hair. When choosing accessories, consider the style of your dress and the theme of your wedding.
Orlando Pita Play product to try: The Max Capacity Hybrid Hairspray is perfect for holding your hair in place when wearing hair accessories. It provides long-lasting hold without flaking or leaving a residue.
Don't forget about your hair color
If you have colored hair, it is essential to factor in your hair color when choosing a wedding hairstyle. For example, if you have highlights, an updo will showcase your highlights better than wearing your hair down. Similarly, if you have a bold hair color like red, a simple, elegant hairstyle will complement your hair color best.
Orlando Pita Play product to try: Our Tone Enhancing Shine Serum is perfect for enhancing your hair color. This treatment adds shine and depth to your hair color, making it look more vibrant.
Trust your hairstylist
Your hairstylist is a professional and knows what they are doing. It's essential to trust their opinion when it comes to your wedding hair. Your hairstylist will recommend hairstyles that suit your hair type, face shape, and dress. Be open to their suggestions and trust that they will make you look your best
Style Every Hair Type with Orlando Pita Play
Make sure your wedding ready with Orlando Pita Play! Our extensive high-quality hair products are sure to give you the bridal hair you've always wanted.