6 Easy Hairstyles for Valentines Day
February 10, 2023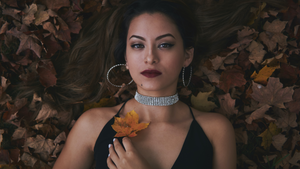 Love is in the air! It's the most romantic time of the year. As you plan your dinner dates and look for the perfect Valentine's day present for your significant other: Don't forget to also plan out your hairstyle and outfit for the big night. 
We're here to help you get ready for your big date night with your lover or a Galentine's Date with your friends with six fun and easy Valentine's day hairstyles. 
Here are our go-to looks:
1. Loose, Wavy Curls 
Who doesn't love the timeless look and feel of beachy waves? Loose, wavy curls perfectly complement whatever sexy style you plan to wear for your date night. Once you curl your hair with a wand, run your fingers or brush through your hair to get the complete look, and voila! You're ready to turn heads and break necks - all night long. 
Once you achieve the curls of your dreams, lock in the look by spraying it with Max Capacity. This hybrid hairspray adds texture, holds the style, and nourishes your hair with hair-loving proteins and nutrients. 
2. Bubble Braid 
Looking for a trendy hairstyle that's playful, fun, and sexy? Jump on the bubble braid trend. If you have long, luscious hair, this is a fun style that will help you maintain your mane and give you that put-together look you crave. Start by securing your hair in a high ponytail at the top of your head. Secure each individual bubble with an elastic a few inches apart until you get to the end.
Before putting your hair in bubble braids, consider starting with a dry shampoo like our Highly Coveted. This formula contains five multi-functional proteins and is designed to provide an instant lift. A few sprays of this dry shampoo will give you that extra body your hair needs to pull off the gorgeous bubble braid look. 
3. Sleek and Chic Bun
You can't go wrong with a sleek and chic bun. This is the best look to help you attain that clean girl aesthetic. It's easy to achieve and provides an elevated touch to your Valentine's day look. 
Once you're done, spray it with a hairspray like Climate Change to control flyaways and give you that all-day hold. This humidity-blocking hair spray will ensure your hair looks its best from the beginning of your Valentine's day to the end.
4. Dainty Braids 
Looking for something subtle and cute? Add a few dainty brains to your hair! To achieve this easy hairstyle, you'll want to style your hair like you normally would. Either by curling it to perfection, adding beachy waves, or keeping it straight and sleek. Once your hair looks how you want it to, add two dainty braids on both sides of your face. Now you're ready to take on your date night!
Once you achieve the style you're looking for, apply a bit of Magnifying Glass to your hair. This intensive serum will help you mend split ends, control frizz, and give your hair a more polished look. 
5. Half up, Half Down
Looking for an elegant look to complement the fancy dinner you have planned with your lover? Go with a half-up, half-down style. This is a timeless style with a chic, put-together feel. 
To achieve the look, separate your hair into two halves. Secure the top portion with elastic or bobby pins, pull out a few hair strands in the front, and spray your hair with your favorite hairspray. 
You'll need an anti-frizz serum like our Well Behaved to help combat the frizz and keep your hair looking its best for your date night. This formula protects the hair from humidity, frizz, and other environmental stressors, so you can maintain the shine and beauty of your hair. 
6. Fishtail Braids 
Fishtail braids are playful, unique, and tons of fun to style. The best part? They are easy to dress up or down. These are slightly more intricate braids than traditional braids. You'll want to separate your hair into two strands and then pull individual sections to the middle to create the fishtail effect. 
Elevate Your Valentine's Day Look with Orlando Pita Play
Ready to turn heads on Valentine's day? You've come to the right place. At Orlando Pita Play, we have a wide variety of hair care essentials that will ensure all eyes will be on you during the most romantic time of the year.