5 Tips to Make Your Hairstyles Last Longer
June 03, 2022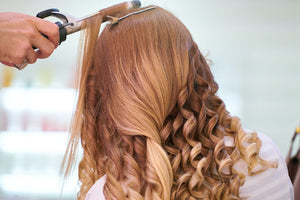 We get it: It can be frustrating to spend countless hours styling your hair just for it to fall flat and not look its best halfway through the day. 
The good news is: that there are ways to make minor changes to your hair care routine to help you maintain a long-lasting hold and achieve the looks you're looking for. 
Here are a few of our go-to tips:
Look for a volumizing shampoo 
Sometimes, long-lasting hairstyles start in the shower. The shampoos and conditioners you use can make all of the difference. If you have dry or flat hair, you may feel like your hair can be impossible to style. 
The good news is: that you can utilize a volumizing shampoo to help add some life back into your hair and get it ready to style. These shampoos produce a little more lift and can give your hair a boost at the roots, to help you attain more fullness when styling your hair.
Our Foam Full: Volumizing Shampoo will gently cleanse your hair while visually improving your shine and body. The formula has moisturizing properties that help enhance lift and bounce to create manageable hair that's ready to style.
Buy Foam Full: Volumizing Shampoo on Amazon!
Invest in a high-quality hairspray 
Hairspray is the holy grail of long-lasting hold. It's the go-to product you probably already have incorporated into your hair care routine. However, regular drugstore hairspray doesn't always cut it. Either it's not formulated with long-lasting ingredients or doesn't play well with your hair type. 
Our Body Breakthrough formula contains plumping technology that doesn't weigh the hair down or leave strands feeling dry. The mega plump 5 protein complex helps promote fuller, healthy-looking hair and maintain that long-lasting hold you're craving.
Buy Body Breakthrough Volume Boosting Hairspray on Amazon!
Play with dry shampoo
We'll let you in on a secret: sometimes freshly clean hair isn't the best hair to style! When your hair follicles are silky smooth, it doesn't have the same build-up of natural oils. 
These oils help you maintain an all-day hold and can preserve your hairstyles for longer. 
Our Highly Coveted is your new best friend. The formula helps absorb excess oil and impurities while also adding back volume. 
The invisible formula contains rice starch, acai, and passionfruit seed oil are ingredients that are great for revitalizing your hair and adding fullness to your favorite looks. 
Buy Highly Coveted: Dry Shampoo on Amazon!
Refresh your hair with serums
If you're prone to frizz and flyaways, your hairstyle may not look its best near the end of the day. 
Before you throw your hair up and call it a day, try a hair serum. Hair serums can be a great product that helps tame the mane and eliminate pesky flyaways. 
Our Magnifying Glass is an intensive serum that helps nourish dry and damaged hair. It contains Inka omega and chia seed oils that can help provide a protective layer to your hair, smooth frizz, and give you incredible shine. 
If you feel like your hair is missing something midday, all you need to do is apply the oil to your dry or damaged ends. 
Buy Magnifying Glass: Intensive Hair Serum on Amazon!
Balance the pH levels on your scalp
Loading your hair up with heavy products can seem like a good idea when you're styling your hair. 
However, too many products can lead to unwanted build-up on the scalp. If you have product build-up your hair may feel dry or flatter than usual: or oilier. 
To help you gently cleanse your hair and restore balance, you'll want to try incorporating a purifying mask, like our Hair Purifier. 
Buy Hair Purifier Vinegar Cleansing Mask on Amazon!
This vinegar cleansing mask works to gently cleanse the hair and scalp. It contains an exclusive prima plus enhancing complex to boost shine and gently clarify your hair. We recommend using a clarifying treatment every week to remove unwanted oil and build-up. 
Don't give up hope! There are easy ways to maintain your favorite looks and look your best: all day long. 
But keep in mind: hair products aren't the only factor that makes your hairstyles last longer. The tools you use to style your hair, the weather, and your unique hair type are also important factors.
However, once you find your go-to hair products for your hair type, your only regret will be you didn't find them sooner. Make sure to shop our complete collection of Orlando Pita Play products to find the right ones for you!