5 Tips to Help You Maintain Your Hair Color
July 22, 2022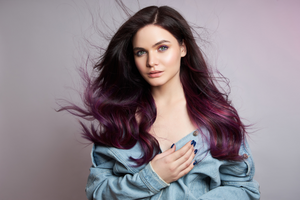 There is no better feeling than leaving the salon with a gorgeous new look. The salon shine leaves dull ends looking their best and helps amplify your beauty in new and unimaginable ways. However, with color-treated hair comes new responsibilities. 
Whether you're someone who regularly goes to the salon to maintain your hair color or just go once a year, it's important to consider how you can revamp your hair care routine to meet the needs of your color-treated hair. 
Here are five tips to consider:
Never forget a heat protectant
We get it. After you get your hair dyed, you want to practice styling it in all different ways to get the full effect. However, if you aren't using a heat protectant every time, you could be risking some major damage. 
Heat protectants protect your hair from unwanted damage caused by heat. Products like our Atmos-Shield hair protectant provide a weightless barrier that will help combat damage caused by humidity, UV rays, pollution, and free radicals. 
It also helps seal split ends and lock in moisture, so you can always look like you just left the salon.
Shop Atmos-Shield Hair Protectant on Amazon!
Let your hair air dry
We hate to break it to you: but blow dryers can cause as much damage as your styling tools. Excess heat can cause your hair cuticle to open up, which causes your color molecules to fade over time. 
When you skip the blow dryer and let your hair dry naturally, you avoid that extra burst of heat on your lovely locks. 
If you're prone to frizz and flyaways and that's why you choose to avoid air drying, consider The Gloss Up Polishing Cream. It's a styling product designed to help boost extra moisture in your hair. 
This cream helps nourish and smooth hair without weighing it down or leaving any unwanted residue.
Buy The Gloss Up Polishing Cream on Amazon!
Keep your hair hydrated
Hydrating is key to keeping your hair looking and feeling its best! We recommend using a reliable deep conditioner or hair mask every week for the best results. 
These products can help keep your hair hydrated while maintaining the vibrancy of your dyed hair. Extra hydration also helps mend dry ends and can leave your hair looking visibly healthier. 
These products are formulated with hydrating ingredients that naturally seep deep into the hair follicle to help retain more moisture.
For color-treated hair, we recommend our Hair Purifier. It's formulated with natural fruit vinegar to help gently clarify the hair and make hair color appear more vibrant than before. All you need to do is leave it on for 5 to 20 minutes weekly.
Shop our Hair Purifier on Amazon!
Choose quality over quantity 
When it comes to maintaining your color-treated hair, you'll want to make sure you're using high-quality products on your hair. Drugstore brands can cause unwanted product build-up, which will weigh your hair down over time. They also don't contain the ingredients your hair needs to feel nourished or cleansed. 
We recommend trying our Smoothing Shampoo & Conditioner Duo. This duo contains an Exclusive Shielding Complex designed to eliminate hair product build-up and enhance manageability for a clean, polished finish. 
It's specifically formulated for color-treated hair and has a rich, creamy formula that works to replenish moisture.
Shop our Smoothing Shampoo & Conditioner Duo on Amazon!
Try out a color depositing product
If you have any big upcoming plans or feel like your hair color lacks the luster it once had, you may want to try out a color depositing hair product. 
Color depositing products provide temporary hair color, enhanced tone, and an extra boost of shine. 
These products can last for up to three to five shampoos and help you maintain your color until your next appointment. 
When shopping for a color depositing product, there are three you'll want to keep on your radar. 
Auradescence is an enhancing shine serum that helps add lustrous shine and enhance hair pigments. The warm serum adds golden pigments to add warmth and dimension. While the cool add violet pigments that help combat brassiness. 
Ampli-Tint is a color depositing hair mask that helps nourish the hair while boosting color and correcting the overall tone. It's an at-home color treatment that provides temporary results that leave a lasting impression. We have over five colors: cool blonde, golden blonde, copper red, and brunette. 
Recast is a finishing spray that rinses out with shampoo. It helps highlight hair and adds a subtle dimension. We have over four colors: golden blonde, copper red, chestnut, and brunette.
Maintain your hair color with Orlando Pita Play
At Orlando Pita Play, we know how important it is to you to maintain that salon-quality look and feel. If you're ready to explore products that help you see results, shop our Color Care Collection today.