5 Easy To Do Hairstyles For Your Halloween Costume
October 07, 2022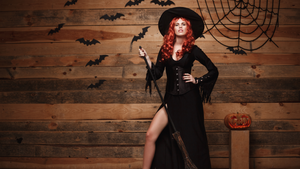 Halloween is finally here! As you start adding Halloween parties to your calendar and getting ready for the spookiest holiday of the year, you've probably spent some time looking for quick and easy hairstyles you can do. It can be a challenge trying to get creative with your costumes throughout the busy work week, especially if you have a jam-packed social calendar and you don't have time to shop.
Don't worry, we're here to help. We put together a list of easy-to-do hairstyles that will give you a complete costume in minutes. 
Here are 5 easy-to-do hairstyles to help you get started:
Ballerina Bun
A ballerina bun is a quick and easy hairstyle with a sleek, chic look. To achieve the perfect ballerina bun, brush all of your hair to the crown of your head. Then, secure the ponytail with an elastic. The best part about this Halloween hairstyle is you can pair this bun with a princess, bride, or queen costume if you want to. 
Before heading to that Halloween party or taking your kids trick or treating, you'll need to spray down the bun with a hairspray like our Max Capacity. This hybrid hairspray is formulated to do the job of dry shampoo and a hairspray. It provides enhanced lift, texture, and a touch of sheer hold. Give your finished ballerina bun a quick mist to absorb excess oil and finalize the style. 
Mermaid Waves
Have you ever wanted to be a mermaid for a night? Well, now is your chance! Mermaid waves are like beach waves, with extra volume and fun. After you lightly curl your hair, spray it down with hairspray before you brush the curls out. This will help you give you a more voluminous, wavy look. Consider adding sparkles or some seashells to complete the mermaid vibe. 
If you have some unwanted flyaways you want to tame afterward, try our Magnifying Glass. This nourishing serum provides a protective layer to smooth frizz, add shine, and rescue your hair from the damaging effects of your curling iron or wand. 
Wednesday Addams 
Wednesday Addams is one of the easiest Halloween costumes to throw together at the last minute. All you need to do is put your hair into two long braids on each side and tie them off with an elastic. Pull a few pieces out on both sides, and boom, you're done. Almost too easy, right?
To get the sleek and perfect look, run our Well Behaved through your hair before putting it into braids. This will help you combat any unwanted frizz and flyaways that may take away from the perfection of the braids. 
Princess Leia
If you're a Star Wars fan, we have the perfect look for you! Becoming Princess Leia for a night is much easier than it looks. Start by putting two ponytails on each side of your face. Swirl one of the ponytails into a bun that covers your ears. Use a bobby pin to keep it in place, and then repeat on the other side. It's that easy!
If your hair is overly damaged or doesn't look its best, it may take away from the costume. Consider putting our Strong Bond in your hair before mending your split ends and achieving a more finished look. This formula contains an Exclusive Shielding Complex that will form a barrier around each hair strand. This barrier protects hair from static for a smooth, refined finish with a light hold.
Doll Pigtails
Doll pigtails are fun, playful, and sometimes spooky. The look is easy to achieve, all you need to do is throw your hair in two symmetrical pigtails. You can choose to add braids, tease the hair for some extra volume, or add some red ribbon. 
With our Body Breakthrough volume-boosting hairspray, you'll get that voluminous look with little effort. With a few sprays, you'll see increased volume, fullness, and shine for long-lasting control and fuller, healthy-looking hair.
Get in the spooky spirit with Orlando Pita Play
Ready to take your Halloween costume to the next level? You've come to the right place! At Orlando Pita Play, we're passionate about helping you reach your haircare goals for every occasion. If you're ready to experience salon-quality products, start shopping today.