5 Easter Hairstyles You Need to Try
March 31, 2023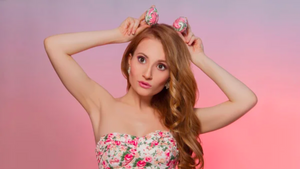 Easter is right around the corner, and we all know what that means - it's time for fun, fabulous hairstyles to celebrate this lovely spring holiday! We've put together a list of seven must-try Easter hairstyles for you to experiment with, and each look can be effortlessly achieved using Orlando Pita Play products. So, let's hop right into it!
The Classic Braided Crown
A braided crown is an elegant and timeless hairstyle perfect for any Easter celebration. To create this look, use the Orlando Pita Play Atmos-Shield Hair Protectant Treatment Spray, which provides thermal protection and adds shine to your locks.
Start by applying the treatment spray to your damp hair before blow-drying and styling.

Next, part your hair in the middle and create two equal sections.

Braid each section and secure the ends with hair ties.

Finally, wrap each braid around your head, pinning them in place with bobby pins to create a crown.
Loose Waves with a Ribbon
Loose waves are a gorgeous, versatile look that can be dressed up for Easter with a simple ribbon. To achieve perfect waves, use Orlando Pita Play The Great Inflate Air Whipped Styling Foam.
Apply a generous amount of the styling foam to your damp hair, working from roots to ends.

Blow-dry your hair using a diffuser attachment for added volume.

Create loose waves with a curling iron, leaving the ends slightly straight for a more natural look.

Finally, tie a ribbon around your head like a headband, or weave it into a braid or ponytail for a playful touch.
Low Twisted Bun
This elegant low twisted bun is ideal for a more formal Easter event. Orlando Pita Play Well Behaved Anti-Frizz Cream Serum will help you achieve a sleek, frizz-free look.
Apply the cream serum to your damp hair and blow-dry straight.

Gather your hair into a low ponytail and secure it with a hair tie.

Twist the ponytail and wrap it around the base to create a bun, securing with bobby pins.

Add a decorative hair accessory, like a pearl hairpin, for a sophisticated finish.
Fishtail Braid with Flowers
A fishtail braid adorned with flowers is a whimsical and romantic Easter hairstyle. To create this look, use Orlando Pita Play Hair Purifier Vinegar Cleansing Mask for a smooth, glossy finish.
Start by applying the cleansing mask to your hair, following the instructions on the packaging.

Once your hair is clean and dry, create a side part and begin the fishtail braid, pulling in small sections from the outer edges as you go.

Secure the braid with a hair tie and gently pull it apart for a fuller look.

Tuck small flowers or floral hair pins throughout the braid for a charming Easter touch.
Half-Up Braided Top Knot
A half-up braided top knot is a playful and trendy Easter hairstyle. Achieve this look with Orlando Pita Play Max Capacity Hybrid Hairspray for hold and texture.
Start by spraying a light layer of hairspray on your dry hair.

Section off the top half of your hair, creating a high ponytail.

Braid the ponytail and wrap it around itself, securing it with bobby pins to create a top knot.

Use the hairspray to hold the style in place and add texture to the rest of your hair.
Look Your Best this Easter with Orlando Pita Play
In conclusion, Easter is the perfect time to try out fresh, fun hairstyles that showcase your creativity and celebrate the season. With Orlando Pita Play products by your side, achieving these gorgeous looks becomes a breeze. So go ahead, experiment with these fabulous Easter hairstyles, and let your hair shine as bright as your personality this spring.